Kenwood DDX419 Installed
11-29-2012, 09:35 PM
CF Senior Member
Member Since: Feb 2008
Location: Charleston SC
Posts: 3,712
Thanks: 0
St. Jude Donor '08-'09
Kenwood DDX419 Installed
---
Just wanted to say thanks to everyone in the Audio/Electronics forum!
With all your help I was able to Purchase all the correct items and install the head unit in about 4 hours taking my time. If i had to do it again it would only take 45 mins.
Stuff i bought for my 2006 BOSE no onstar
Kenwood DDX419
- didn't use trim piece, or metal sleeve
Metra 95-3304
- fit good, use side brakets.
Metra 40GM10
- tapped up connection so wouldn't come loose
C2R-GM24
- opened up and placed a peice of tape over speaker to quite it down, it doesnt sound like stock and it sounds like crap, so now you can barely hear it, so thats just less of the crappy noise you hear.
-Wiring, connect radio plug illunation to TC button, grey with black stripe. also connect radio ant connect wire to blue wire on the pac interface.
besides that, connect the red, yellow and black, then just connect the rca's to the preout, and BOOM done!
No alt wine, and i also remembered to zero out the bass and treble on the stock head unit before i removed it.
I mounted the bluetooth mic above the mirror and just ran the wire around the windshield to the drivers side, down the across to the radio.
thanks again guys best money i've ever spent!
heres a lil pic
---
Last edited by carlrx7; 01-03-2013 at

11:57 PM

.
12-01-2012, 04:23 AM
CF Senior Member
Member Since: Nov 2012
Posts: 970
Thanks: 0
12-01-2012, 11:19 AM
CF Senior Member
---
on some of the premium bose systems (our corvettes dont have the premium bose) if you didnt zero out bass and treble before removal those setting would stayed locked into the system
12-01-2012, 08:18 PM
CF Senior Member
Member Since: Feb 2008
Location: Charleston SC
Posts: 3,712
Thanks: 0
St. Jude Donor '08-'09
---
UPDATE***
I talked with Kenwood and they were able to walk me through a way to use my IPhone 5 via sync cable to play pandora!
two thumbs up for Kenwood customer support!
-Carl
12-07-2012, 01:27 PM
---
Just installed one of these in my '08 Z, replacing DNX9960. My installer (30+yrs experience) played hell getting the steering wheel controls to work, finally reaching the "right" T/S person who sent "special" SWI instructions for '08 vette....

Finally realized that you don't have to use a USB + audio cable if you switch input to AV2 from IPOD.

Prince Barney is VERY pleased so far!
---
Last edited by BarneyZ; 12-07-2012 at

01:29 PM

.
12-07-2012, 02:09 PM
CF Senior Member
Member Since: May 2007
Location: Denver CO
Posts: 1,047
Thanks: 0
Thanked 0 Times in 0 Posts
12-07-2012, 02:58 PM
CF Senior Member
Member Since: Feb 2008
Location: Charleston SC
Posts: 3,712
Thanks: 0
St. Jude Donor '08-'09
---
For the iPhone 5 to work with only the USB cable alls I had to do way hit standby on the menu and change the source from iPod to the other option

-Carl
12-14-2012, 07:55 PM
Tech Contributor
Member Since: Sep 2005
Location: New Market AL
Posts: 1,659
---
How is the performance of the remote phone mic? I have tried my mic at several locations in the car, and volume levels 1, 2, and 3. The other party that I am on the phone with always has problems understanding my part of the conversation due to echo. I hardly even use the bluetooth phone feature, and that was the primary reason I bought the radio.

Anybody have advice for mic placement or a better mic to use?
12-14-2012, 08:21 PM
CF Senior Member
Member Since: Feb 2008
Location: Charleston SC
Posts: 3,712
Thanks: 0
St. Jude Donor '08-'09
---
I put mine here, haven't heard any complaints, but I'm pretty much against do anything in the car besides driving, so my conversations are always short and sweet.
some pics of the mounting location i chose.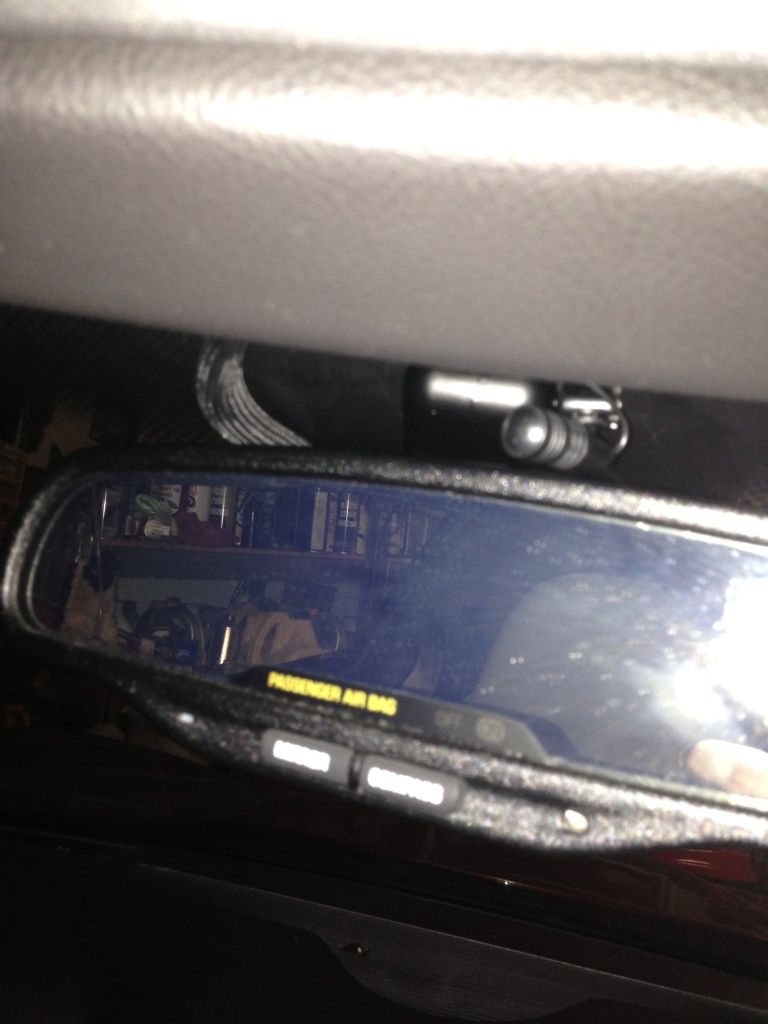 -Carl
12-14-2012, 11:52 PM
Kenwood DDX problems with Bluetooth and Voice Dialing
---
People complain about not hearing me clearly on the speakerphone. This was the one aspect of my old DNX9960 that seemed pretty good. I have not tried fooling around with the mic loudness adjustment. I have yet to successfully get the voice dialer to work. With the motor off, in a garage, she once asked "which David do you want to dial, David so-and-so, David such-and-such", etc. I'm sure that headers and my mild-to-wild switch are not helping. Still looking for solutions.