picked up an air compressor and tools for CHEAP (pics)
04-03-2005, 07:35 PM
CF Senior Member
picked up an air compressor and tools for CHEAP (pics)
---
A co-workers dad is moving to a smaller house and wanted to sell some of his stuff. I went to his house on saturday and this is what I picked up.
3 hp craftsman air compressor. 220 volt 150 psi max working pressure.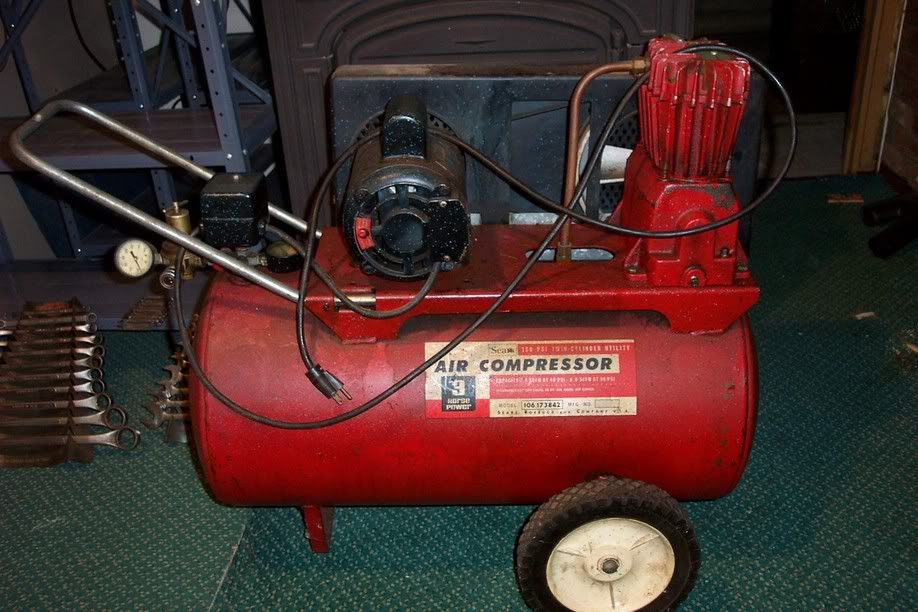 A set of craftsman box wrenches 3/8 to 1-5/16. A set of open end craftsman wrenches 1/4 to 1-1/8 and a set of craftsman ignition wrenches.
Here's the other goodies I got. The three shelves in the backround plus two more I have to pick up yet. Starting on the bottom shelf, air hammer with a full set of chisels. The yellow handled item is for auto body sheet metal repair. It hammers a recess for the patch to fit flush. Left, right and straight cutting tin snips. 1/2" drive impact wrench with craftsman impact sockets 3/8 to 1".
Next shelf is a craftsman paint gun, straight air grinder with cut off wheel, " cold steam " cleaner, ( hook up your water hose and the air line for cold water , high pressure cleaning ) 1/4" air drill, cylinder hone, in line air filter and 1/4" high speed pencil grinder.
Top shelf is two 10' self coiling air line, a 15' air line with air nozzle and tire chuck. Hanging on the back is 50' of air line.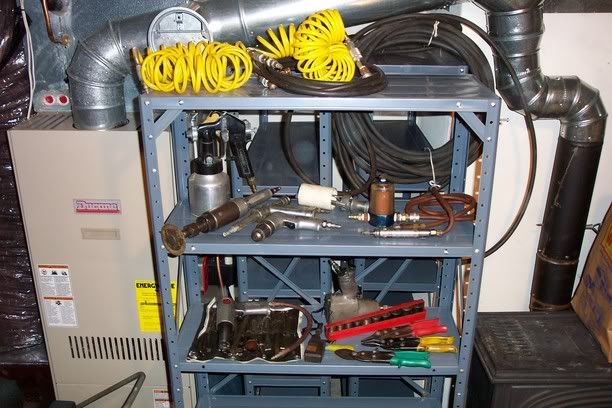 Not too bad for $380
Jeff