Comfortweave Vinyl Fabric
09-28-2016, 05:24 PM
CF Senior Member
Member Since: Sep 2006
Location: Westminster Maryland
Posts: 30,366
Likes: 0
Comfortweave Vinyl Fabric
---
Hi,
In a seat cover installation thread the question of "how close is the current comfortweave fabric being used by companies like AK to the original Chevrolet fabric", came up.
The first thing mentioned was that the original fabric was perforated but the current fabric isn't.
Also it was mentioned that the appearance of the AK fabric is quite different than the Chevrolet fabric when viewed closely.
Member Richard D. remembered receiving a sample of current Comfortweave fabric from a supplier that he thought was close to the Chevrolet fabric, but the sample is currently among the missing. I told Richard I'd send for a sample and post it for comparison.
So… I sent for a sample and show it here with an original Chevrolet sample, the AK sample.
Be aware! This is just the fabric…..NOT a set of seat covers.
? Thoughts?
Regards,
Alan
Chevrolet Comfortweave.
AK Comfortweave.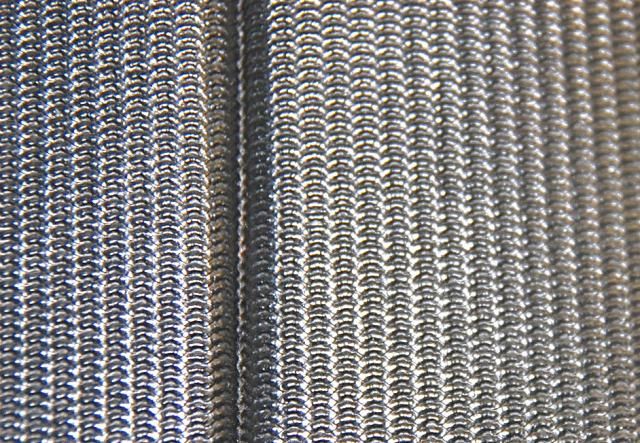 The new fabric, and it IS perforated.
---
Last edited by Alan 71; 09-28-2016 at

05:29 PM

.
09-28-2016, 06:19 PM
CF Senior Member
Member Since: Sep 2006
Location: Westminster Maryland
Posts: 30,366
Likes: 0
---
Hi o,
No, it's just the Comfortweave vinyl fabric.
The foam scrim and linen are part of the construction/sewing of the seat cover itself.
Regards,
Alan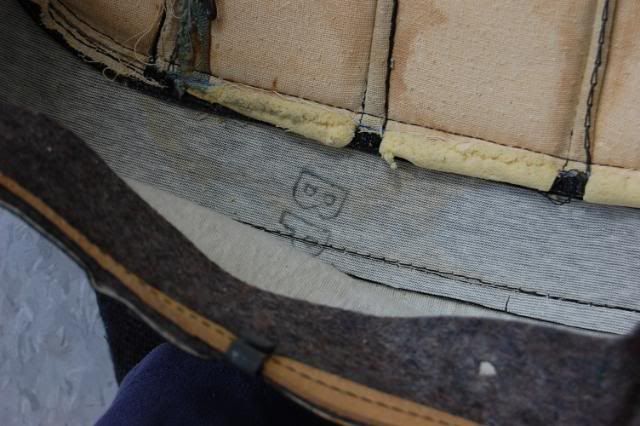 09-29-2016, 10:35 AM
CF Senior Member
---
After reading that other thread. I orderded and received my sample as well. Ill try to post some pics but overall looks real nice. Possibly a bit darker than my originals but I didn't get a chance to compare directly last night.

The cost is $149 per yard. It would be nice if one of the seat manufacturers would provide an upgrade option as buying seat covers, material and the labor to deconstruct and reconstruct would make these covers really expensive.
09-29-2016, 10:47 AM
CF Senior Member
Member Since: Sep 2006
Location: Westminster Maryland
Posts: 30,366
Likes: 0
---
Hi da,
I wasn't really thinking about a "de-construct" but rather getting a manufacturer to agree to sew a new set of covers using this Comfortweave material.
I'm concerned what the 'learning curve', if any, would be for the appearance of the finished covers? Maybe none?… maybe several sets?
Also, I have no idea if this material is already known to the manufactures and there's a reason they choose not to use it ….. a reason or reasons beyond cost?
Regards,
Alan
---
Last edited by Alan 71; 09-29-2016 at

12:25 PM

.
The following 2 users liked this post by Alan 71:
09-29-2016, 11:45 AM
CF Senior Member
Member Since: Dec 2015
Location: Texas City, TX Texas
Posts: 1,320
---
I am curious as to how this will pan out...
09-29-2016, 08:08 PM
CF Senior Member
---
Heres my sample and original seat. Looks really nice. Looks like it has a shade of green in it but the wrave looks great. I thought icread that the original machinery was lost in a fire. Im still curious why no one makes a seat cover with this material. Any vendors on the forum care to find out for us?
---
Last edited by danthony; 09-29-2016 at

08:29 PM

.
10-01-2016, 07:26 PM
CF Senior Member
---
It was my understanding that the company where the samples are coming from was going around and buying up old original material from upholstery shops going out of business. Several years ago, when I bought a couple of yards for my Fiero seat conversion, it was $85.00 a yard. That could explain why the price has almost doubled. I suspect the supply is not endless.

I took the Comfort weave material to Mr. Mikes and had him alter his patterns to more closely resemble the original 69 cover design. Obviously, it could not be exact, but they came out very nice.
The true breathable comfort weave is so much more comfortable than the newer press molded comfort weave used in new replacement upholstery.
I don't have the pics on this computer, but you can see the results in the photos in my garage.
They are also posted on Mr. Mikes web site in the Corvette section.
10-01-2016, 11:21 PM
CF Senior Member
Member Since: Jan 2006
Location: Crossville TN
Posts: 30,903
---
I like the 'real' ComfortWeave material, but there is one downside to it. The air paths in the weave also allow sunlight to flow in to the foam padding. And you know what happens to foam-rubber when UV hits it over time: lots of yellow dust!! Yep. The foam turns to yellow residue and all the padding disintegrates out of those padded channels.

The real material looks better and breathes better. But if the seats get a lot of 'sun time', the padding goes south after a few years.