what lock is needed for C4
01-10-2018, 01:12 PM
CF Senior Member
Member Since: Mar 2013
Location: Reseda Cali.
Posts: 1,288
what lock is needed for C4
---
Hi I am moving and want to park the corvette in front of a house, it wont be in gated parking anymore. What are people using for deterrent? I have a fake led/w switch and my alarm works fine.
Thanks
01-10-2018, 03:51 PM
. 1985 Original Owner .
Member Since: Jul 2004
Location: Clifton Pk, NY Clearwater, FL
Posts: 3,895
01-10-2018, 04:04 PM
---
Anyone who wants to steal a car or break in and steal something from inside will do just that. You didn't say how long the move will take, but have you looked at storage places wher you could park it? Maybe ask a friend or relative if they would have a secure area you could use?

Some people say that the "Club" is a deterrent but again, if they really want the car, they will be able to defeat that device.

Will the car be used daily? If not, you may want to try removing the battery. Or take the rotor out of the distributor. Maybe remove a tire/wheel?
01-11-2018, 05:49 AM
CF Senior Member
Member Since: Aug 2013
Location: Minneapolis Mn
Posts: 3,314
---
Depends on what you're trying to do: deter theft or vandalism?
I've had 2 vehicles where they tried to do a smash and grab. Took out the windshield on one and a side window on the other. In both cases an alarm didn't slow them down.

If some individual wants to break in, they're going to do it. With C4's not being the most desirable model, it's less likely IMO to have it stolen than broken into. Don't leave any goodies visible in the car, in my case there wasn't but it didn't make a difference. One thing though, don't leave things like garage door openers visible either, it's another way to get into a house via an attached garage or access to other vehicles.

For theft, without a battery it's harder to steal a vehicle whether it's remove the battery or disconnecting it. You won't have an alarm though if there's no power in the vehicle.

My 2 cents.
01-11-2018, 07:27 AM
CF Senior Member
Member Since: Oct 2004
Location: "Below I-80" Illinois
Posts: 5,238
---
w/ all the above:
find a secure location - a friend's driveway even?
Pull critical fuses, e.g., (injector, fuel pump, etc.)
If they can't move it, they'll F'k it up. I'd consider a storage unit or rent a garage. The street is just a matter of time before disaster (from personal experience).
01-11-2018, 01:08 PM
CF Senior Member
---
I use nothing and it works fine too. So there we are. You can't simply say "I used this and it works fine" unless there is a control group.
If you are going to be so worried, perhaps you need to stay in that gated community that kept you feeling good. You paid insurance for a reason. If you are going to worry, perhaps the insurance isn't doing it's job. In which case, up the amount. I pay insurance so I can sleep at night and not have to park it in the vault of Ford Knox. If I have to worry, I might as well not pay insurance and just go with liability.
01-11-2018, 01:22 PM
CF Senior Member
Member Since: Mar 2013
Location: Reseda Cali.
Posts: 1,288
---
Ya looks like a fairly quiet street, thought someone would mention that old gm steering lock that I see on some old Camaros at the car show. Should be fine. I have full coverage also. Storage is 125 /m but no
available spaces now.
---
Last edited by xrav22; 01-11-2018 at

01:23 PM

.
01-11-2018, 01:41 PM
CF Senior Member
Member Since: Nov 2013
Location: Greater Cincinnati Area.
Posts: 2,355
---
I asked the same question once and a user pointed out that the factory E-Brake is probably as good at theft deterrence (except against another C4 owners) as anything that exists.. and it is free.
01-11-2018, 01:47 PM
CF Senior Member
---
01-11-2018, 04:28 PM
CF Senior Member
Member Since: Nov 2016
Location: Torrance CA
Posts: 1,095
---
This is the way to stop drive-away theft.
Take everything out of it, put the collar on the steering column, and leave it un locked. They won't break anything trying to get into it.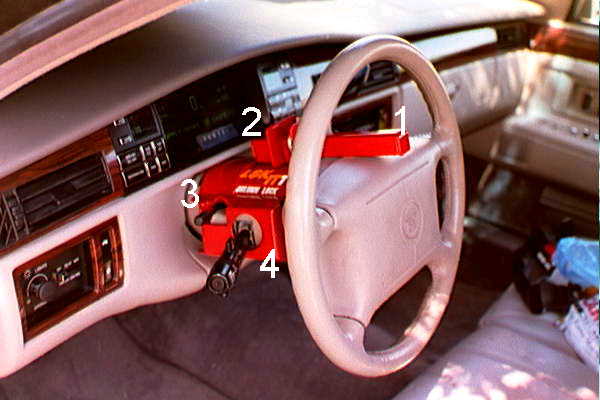 01-13-2018, 02:47 AM
CF Senior Member
Member Since: Oct 2004
Location: "Below I-80" Illinois
Posts: 5,238
---
Oh, geezuz... I see ANOTHER reason why it can be left unlocked and NOBODY (except Barbie) would mess with that car!
(Yeah, I said it. But, y'all were thinkin' it!)