Wilwood Front Brake Kit — 140-11918-DR
06-13-2018, 04:50 AM
CF Senior Member
Wilwood Front Brake Kit — 140-11918-DR
---
06-15-2018, 01:53 PM
Supporting Vendor
---
Haven't sold a lot of C4 kits but the basis of the kit is sound: 2pc hat and rotor, radial mount six pot etc.

Based on the spec of the parts and you sig pic I'd say they'd treat you well. The total shipping weight of only 48 lbs I suspect that 24lbs per corner is going to shave off some pounds. Benefits; lither weight, improved response and feel, top loading pads, cooler running...all good.

On the flip side a 12.88 x 1.10 rotor is not going to be sufficient for any type of open track day use. Simply too light a casting for that and the performance needs of the Corvette. Spirited use yes, 40min of "beat the hell out of it..." no.
__________________
TCE


Your one stop...for Wilwood Brakes!
480.967.7901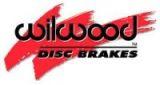 * CUSTOM * Corvette * Lightning * Impala SS * Focus ST * Marauder * 350/370Z * MINI * Challenger * Crown Vic * Super Duty * Flex/SHO * Mustang * WRX * ...and more!
06-24-2018, 10:44 AM
Supporting Vendor
---
Probably find it the best $1400 you dropped in a while when it comes right down to it. Sadly the rear kit options for the C4 are far more limited due to the dual action parking brake caliper.
06-24-2018, 12:31 PM
- 1986 Original Owner -
---
But the OP has an early C4 with the shoe inside the rotor parking brake. The
140-11920
works on the early C4 rear. This is what I used for the rear of my '86 along with the 14" rotor
140-11919
on the front.
---
Last edited by Ray Quayle; 06-24-2018 at

12:32 PM

.
06-24-2018, 04:33 PM
Supporting Vendor
08-05-2018, 01:24 AM
CF Senior Member
After installing Wilwood on my 1985 Vette
---
The kit is bolt on. With CCW 17" classic rims, there lots of clearance. Haven't got the chance to do a full bedding like mention here:
http://www.wilwood.com/Pdf/Misc/Pad_...ding_Steps.pdf
Thank for your support.
---
Last edited by Yariv; 08-05-2018 at

01:28 AM

.
08-07-2018, 08:04 AM
CF Senior Member
Member Since: Jun 1999
Location: Bowling Green KY
Posts: 2,944
Likes: 0
---
Originally Posted by
Yariv
I have the 140-9298-D kit, which is basically what you show but with a bigger rotor. 18" wheels required though. Wilwood makes good stuff.