Rack Ramps from Race Ramps Rock! Say that quick 3 times. (Long with pics.)
04-26-2016, 11:51 PM
Race Ramps Hangers
---
Originally Posted by
Patches
The one feature about my lift that I have never enjoyed is the heavy ramps that I have to haul out, position and lock in place every time I need to use the lift and then having to remove them afterwards. The steel ramps weigh over 40 lbs. apiece and they are very awkward to put on and remove. Plus, the ramps are too short for my lift and Racedeck floor combo and my lowered C5's so I also have to add a board extension to keep from contacting the rockers on the lift.
As a result, I probably tend to pull my C5 off the lift less often than I would be inclined to if the ramps weren't such a pain to put on. Here's what my original solution looked like.
Race Ramps to the rescue! Rich at RR ran a GP not long ago and included the Rack Ramps he designed to work with most brands of lifts. I ordered a set and when I received them found that I still needed a bit more length so I contacted Rich and he offered to build me a custom set for a very reasonable amount over the Rack Ramp price. I drew up what I was looking for in CAD and sent the drawing to Rich. He had them back to me in less than 3 weeks. Here's what I sent him (a simple sketch will suffice.)
Now, no more lugging heavy, steel ramps and crushing my fingers trying to get them in place. The custom rack ramps are less than 15 lbs. apiece and are in place in seconds instead of several minutes. I can support one of these on a finger and they are 5 feet long! They make driving on and off the lift a breeze with a lowered car and totally take the stress out of worrying about spinning tires on the ramps with their grippy texture (I back my C5 onto the lift for storage).
Just out of curiosity, I left one of my vettes sitting on the ramps overnight to see if they would take a set but they were in perfect shape when I pulled the car off the next morning. These ramps are not only a back saver but I no longer debate whether I want to pull the vette off the lift for a quick drive.
Rich proved himself a terrific forum vendor and really great to work with. For those of you with similar issues with your residential lift, I strongly recommend giving Rich a call. The price of these ramps is a terrific bargain when you consider the convenience they offer. (
http://raceramps.com/
)
Here are a few pics of my vettes on the ramps.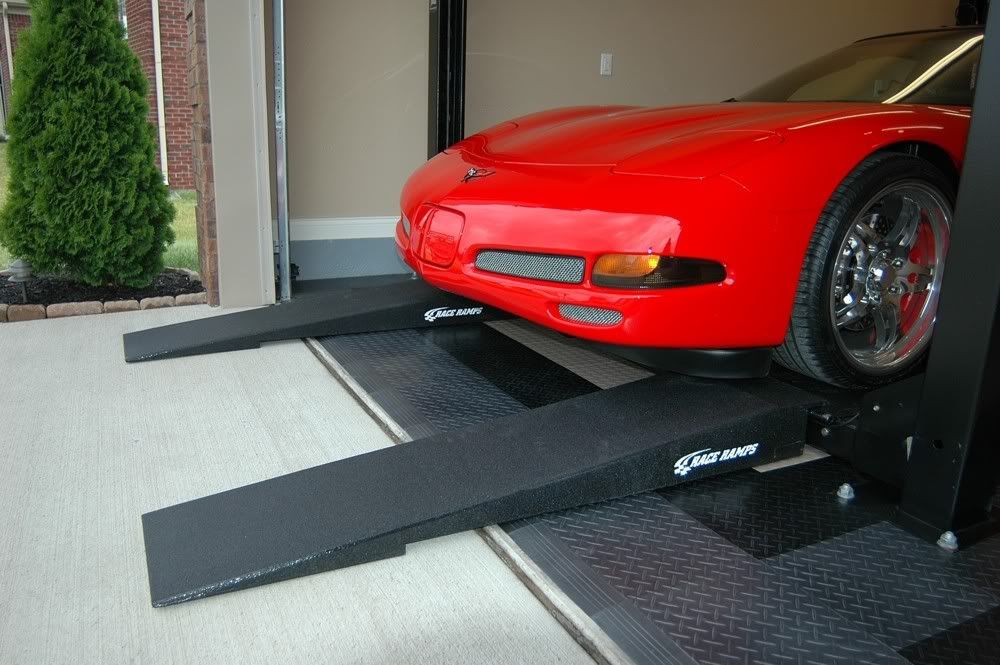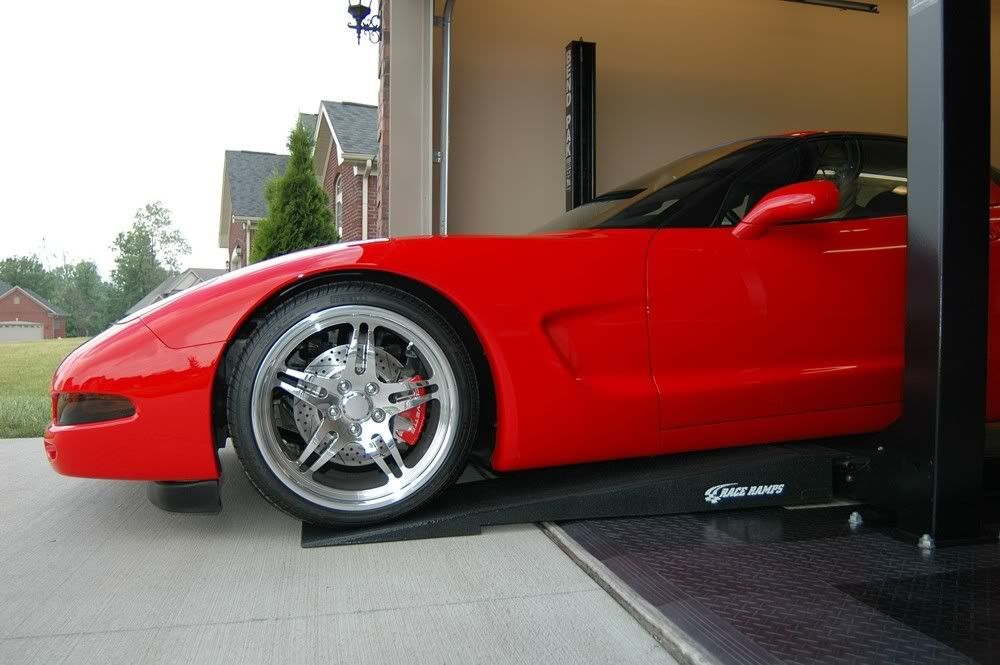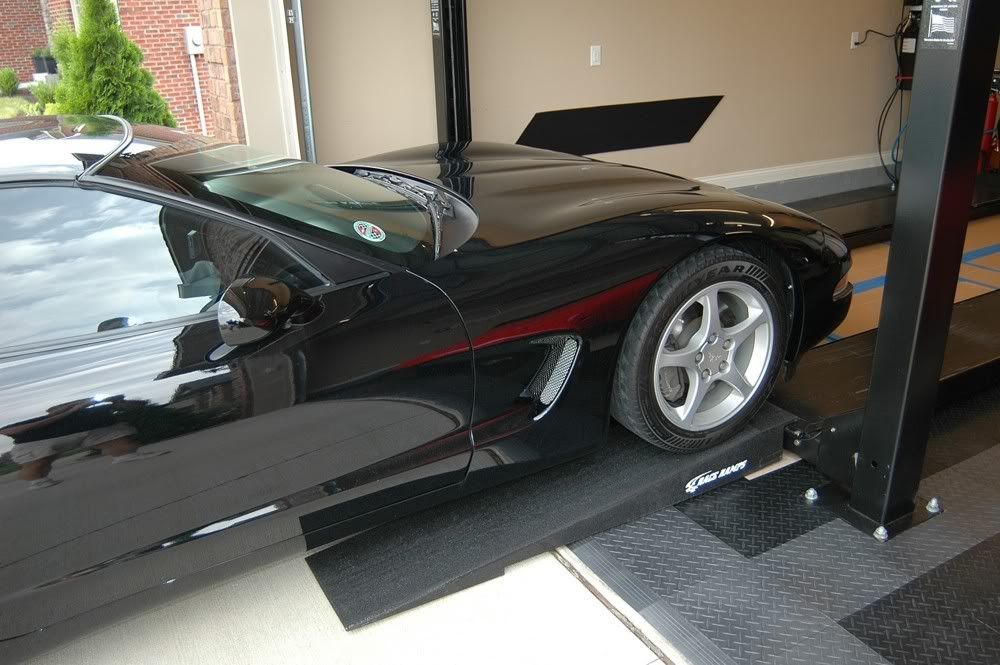 Today I installed hangers for them next to the lift - so much tidier than my previous setup.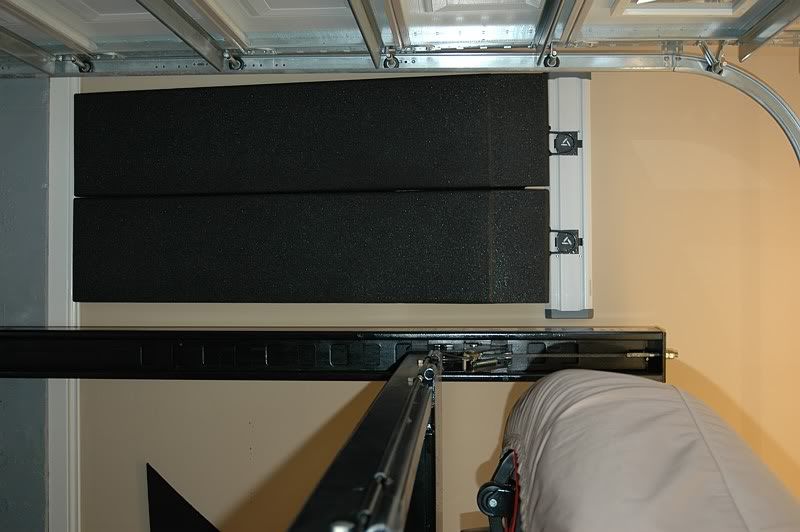 what did you use to hang the Race Ramps ? I order a pair of ramps and like to order the same hangers you have.
Thanks
04-27-2016, 12:12 AM
CF Senior Member
Member Since: Sep 2001
Location: Lake Elsinore, CA
Posts: 23,060
---
Holy petrified thread, Batman!
Go to Lowe's or one of the stores that sells the Gladiator cabinet brand - I got mine at Lowe's. They also sell Gladiator accessories such as the wall hanging system with various hooks. That what I used but you can use any kind of hook setup that the ramps will hang on. No need to spend the money or time I did just for that.
07-08-2016, 02:07 PM
Supporting Vendor
Member Since: Oct 2010
Location: Philadelphia PA
Posts: 1,233
Thanks: 0
Tote box brackets for storing Race Ramps
---
The 16" long Gladiator tote box brackets work well for storing Race Ramps incline sections in the "unusable" area just below the garage door track.