New Product! C6 Custom Brake Caliper Covers
04-27-2015, 11:06 AM
Platinum Supporting Vendor
06-01-2015, 08:53 PM
Platinum Supporting Vendor
---
Hide those ugly calipers with ease and keep your wheels cleaner. We have incorporated technologies developed from the Aerospace and Recreation Industries to bring you a high quality product made here in the U.S.A.
Caliper Covers Features:
• Reduces Brake Dust
• Powder Coated Finish
• 6061-T6 Aerospace Aluminum
• Big Brake Look
• Easy Installation
• No tape, glue, paint or special tools required
• Patented Fastening System
Engineering Excellence:
• TIG Welded
• High Speed Engraved Characters
• Hydraulically formed
• Easy Install, Approx 10 Minutes Per Wheel
Available here: http://rpidesigns.com/shop/item.asp?itemid=1588
These are available in Red and Black. Sold as a set of 4. Forum members can get the special price of $179.10/set when you enter coupon code SS2007 during checkout.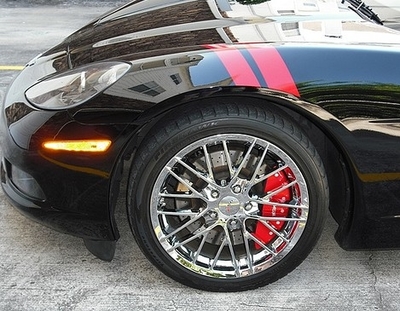 09-30-2017, 07:25 PM
Platinum Supporting Vendor
---
Use coupon code LANA5 to receive 5% off your order!
06-11-2019, 07:16 AM
Platinum Supporting Vendor
Member Since: Apr 2013
Posts: 7,024
---
Use Coupon Code

RPICHRIS5

for an Immediate Discount!!!