FS: [CO] 2013 cyber gray Z06: track car (NASA TT1) street legal, full interior w A/C
10-09-2018, 08:46 PM
Junior Member
[CO] 2013 cyber gray Z06: track car (NASA TT1) street legal, full interior w A/C
---
Album of pictures here: https://postimg.cc/gallery/mubyu492/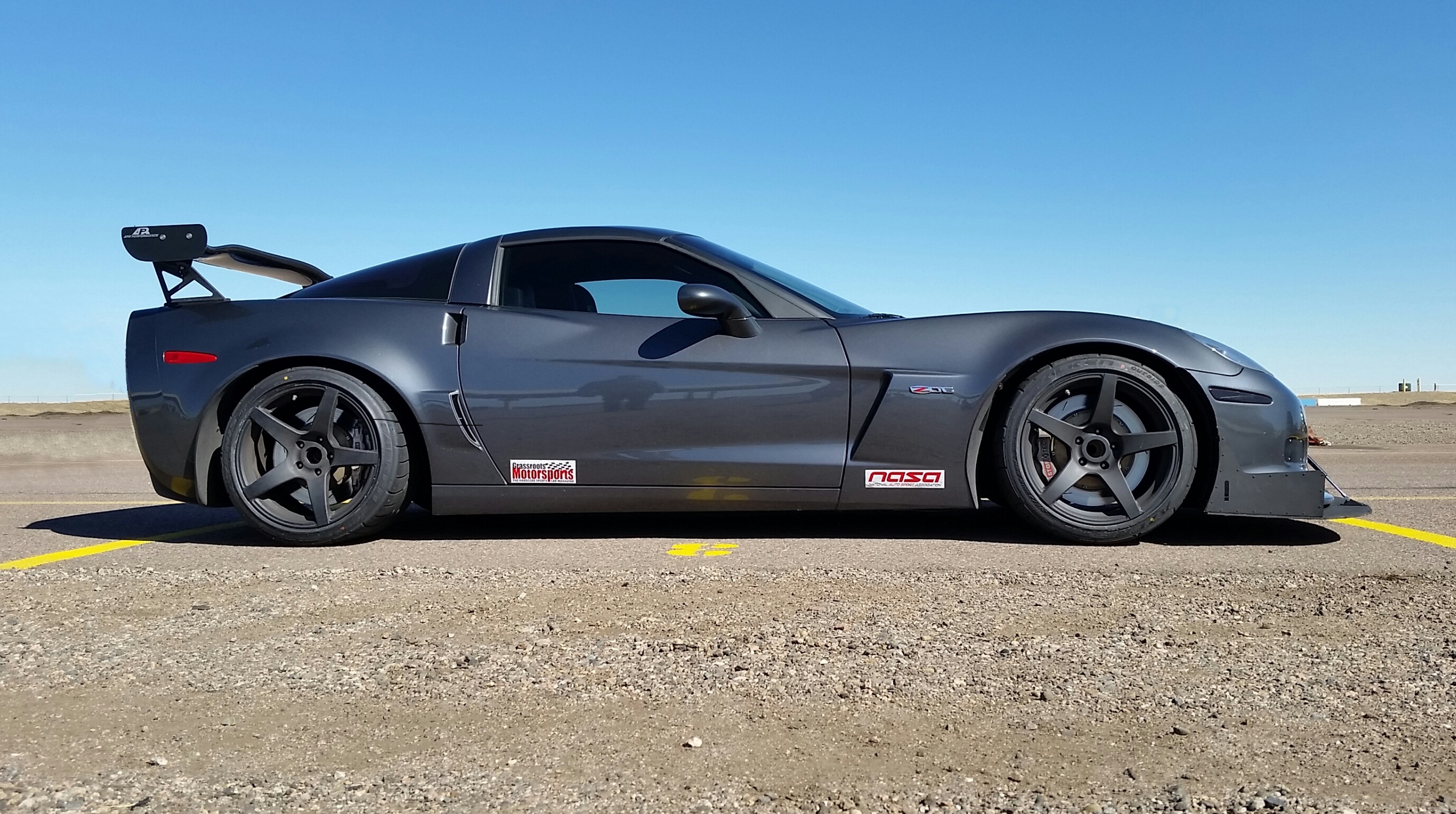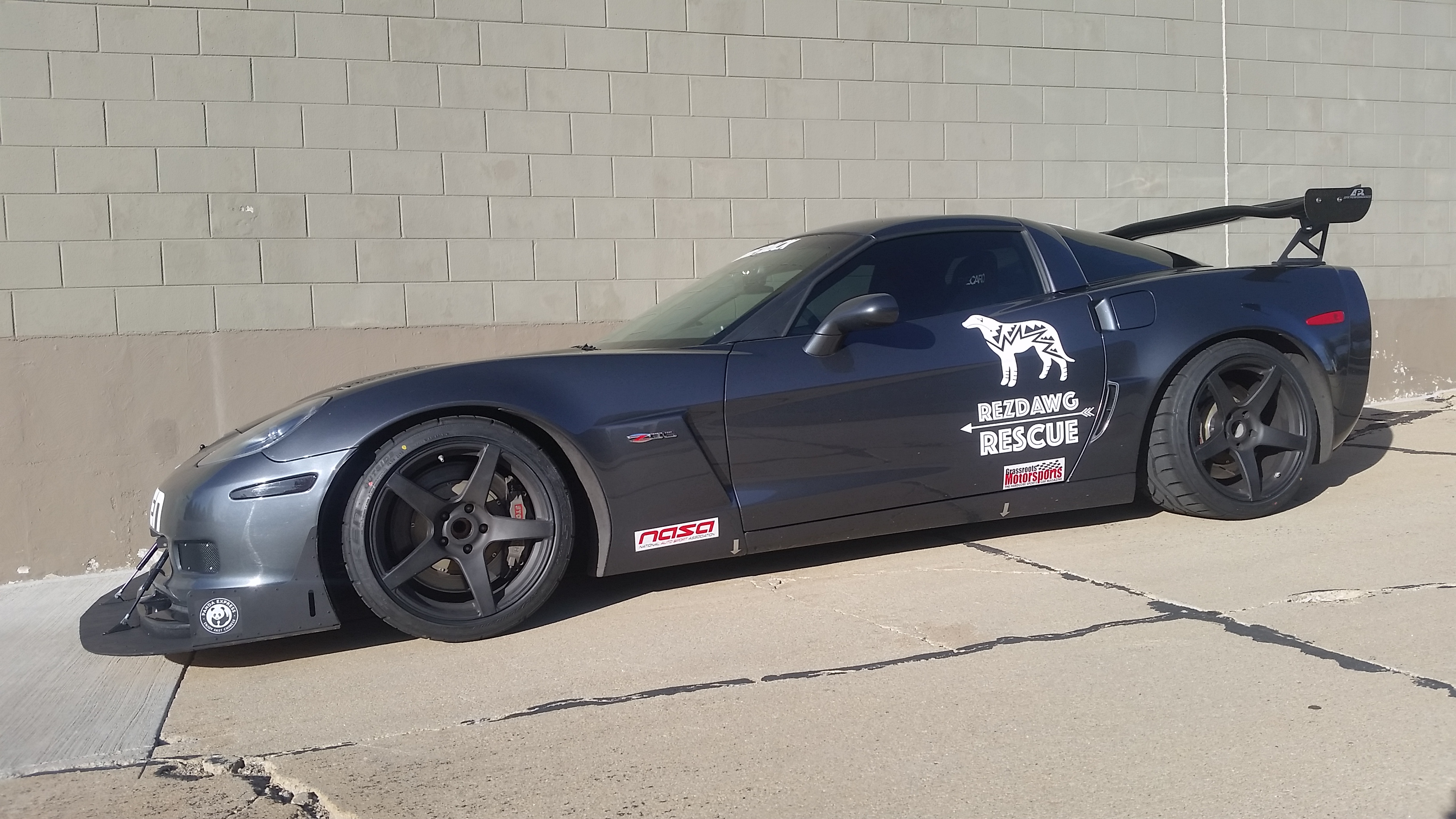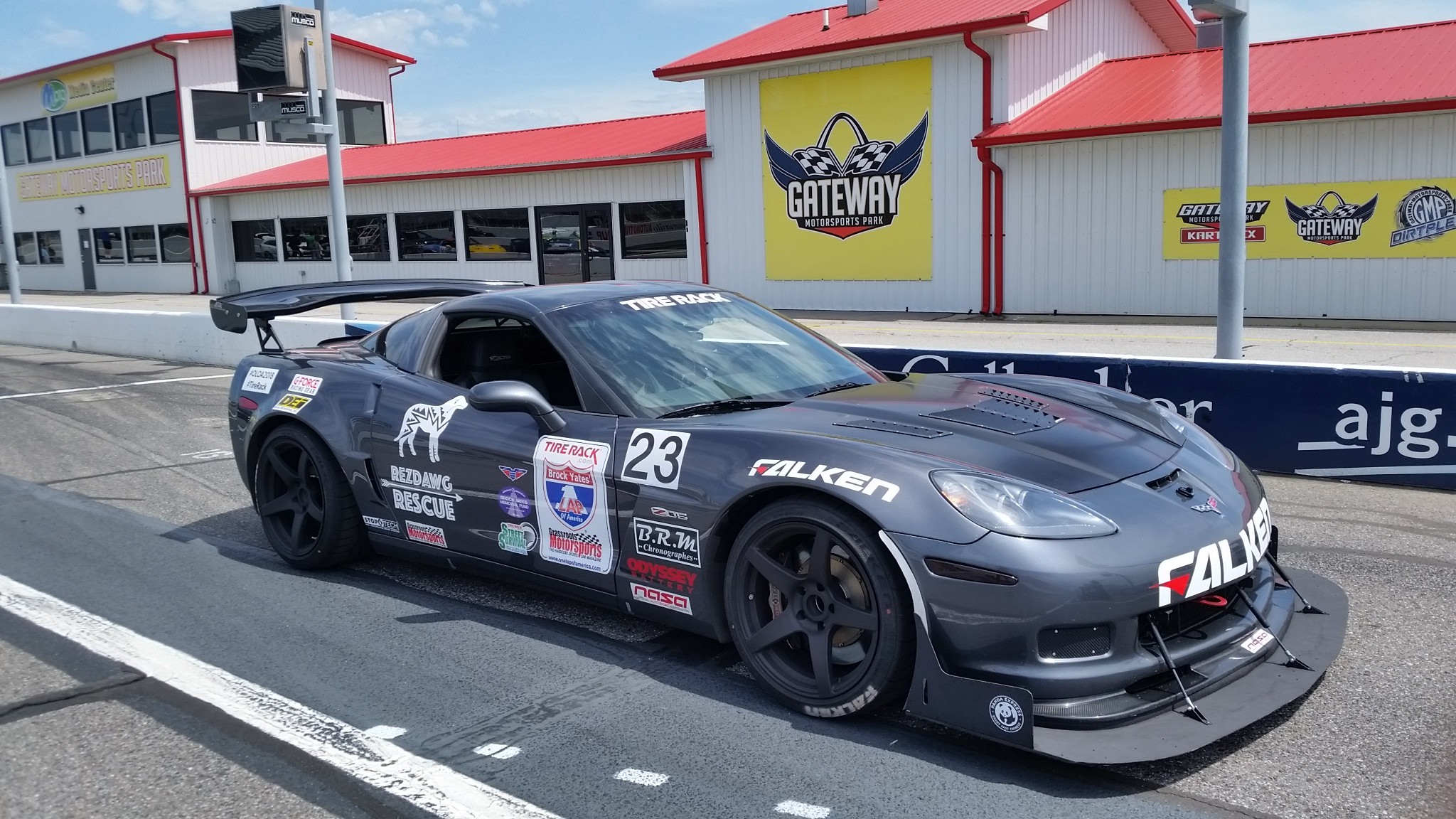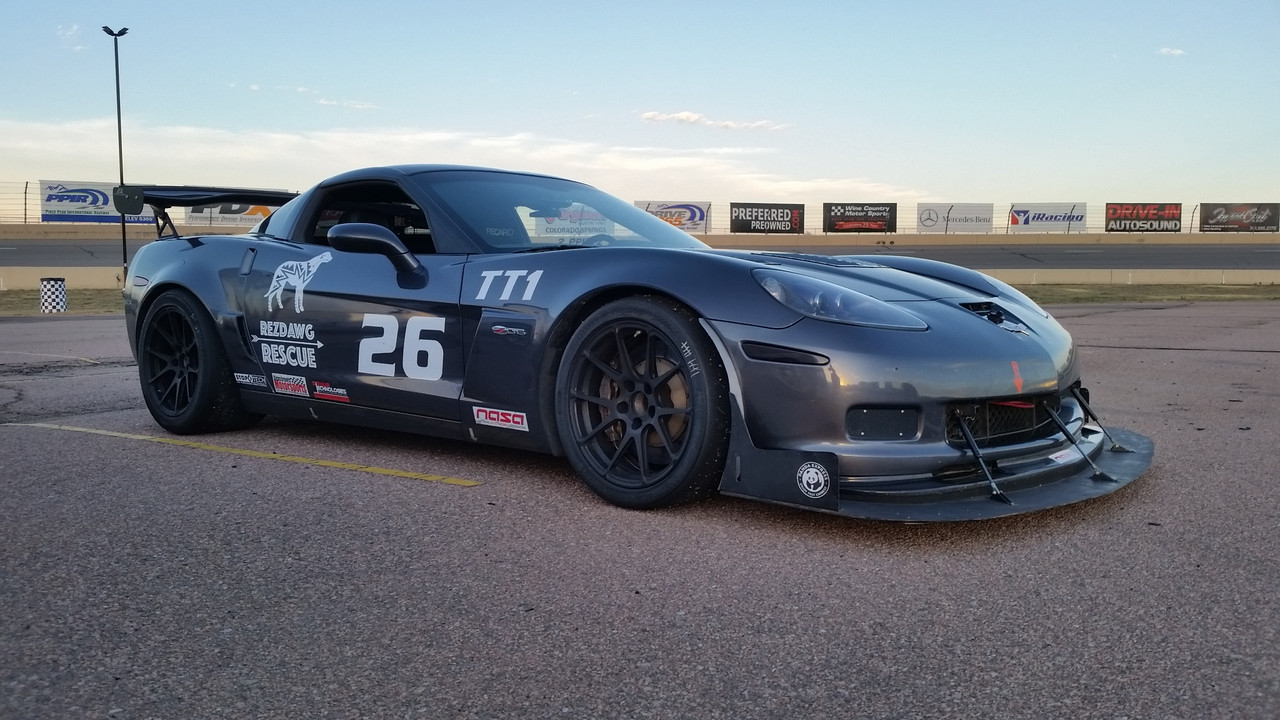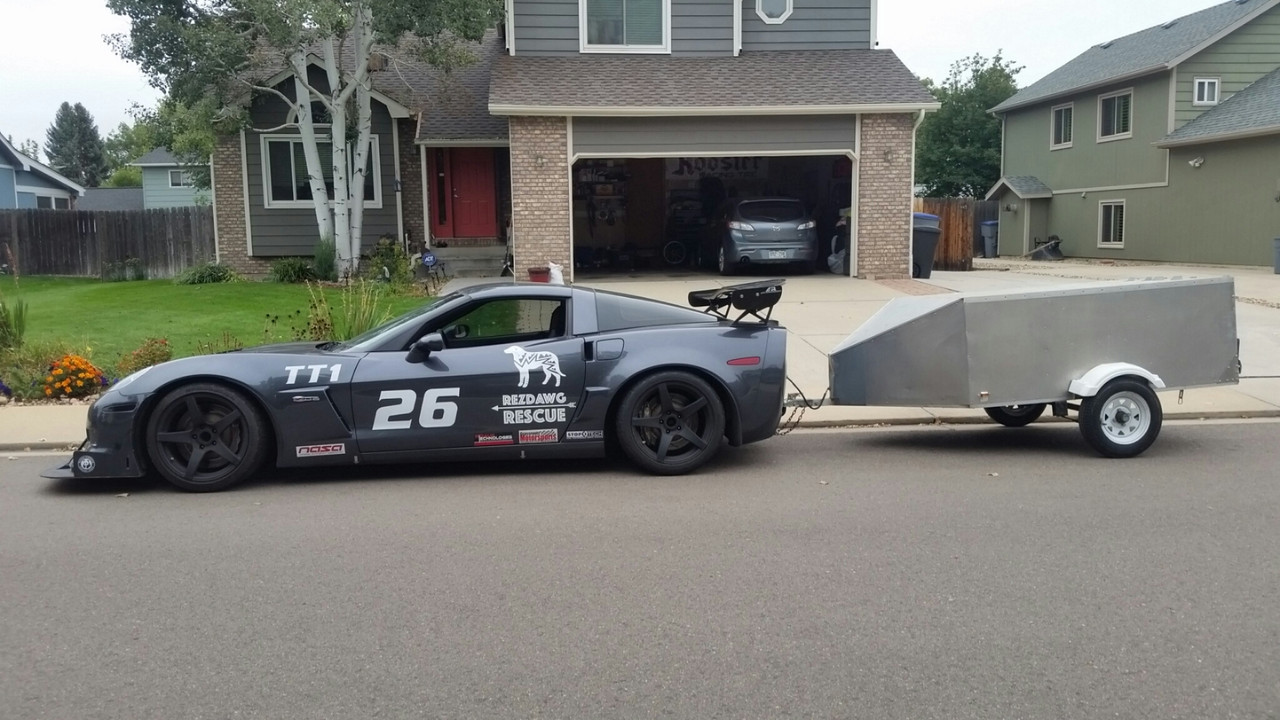 I bought this car in the summer of 2016 and have enjoyed it thoroughly as a very fast (yet easy to drive) track car for a couple seasons. The "Panda Express" is probably my last track car and this C6 Z06 was easily the quickest and most enjoyable one I've owned.
This car has a full interior (retains the OEM A/C and 7-speaker audio system) and is in every way a street car. It just happens to run faster lap times than 98% of true track cars that are stripped for weight savings and have to be trailered to events. Ironically, this car itself tows a mini trailer to haul its own race tires & wheels/tools/fuel etc. All of which is included in the price of
$48,500.
This car includes more than $37,000 in parts. That figure does NOT include any labor costs (even if you are willing to do all the work yourself to build your own C6 Corvette track monster, not having to put the hours in the garage has significant intangible value).
Despite my less-than-stellar driving, the car has proven to be fast and successful. It finished 7th overall at One Lap of America 2018, the first time my codriver and I have ever participated in this epic event (know that about 4,000 of the car's miles were from this one week). Most of the cars that beat us had a significant power-to-weight advantage (e.g., C7 Z06; McLaren 570S; modified Porsche 911 Turbo; modified Nissan GT-R; highly modified, 400+ whp Honda S2000; highly modified, 400+ whp Mitsubishi Evo). FYI, there's documentation of this One Lap result in the Oct. 2018 issue of
Grassroots Motorsports
magazine.
In 2017, I trophied in the CAM-S class at the SCCA Solo National Championships in Lincoln, NE. And at the two main tracks in Colorado, the car has run a 1:50.69 at High Plains Raceway (HPR) and a 1:34.26 at Pueblo Motorsports Park (PMP). Both of these lap times would be at least a full second faster with a more competent driver than me behind the wheel:
This is not the cyber gray C6 Z06 for you if you want one that's pristine and in near-showroom condition. This is not a show car and its exterior and interior are imperfect due to actually having been driven (not just to Cars and Coffee) and having served as a track car. There is some damage to the hatch (the wing hit a low-hanging garage door). However, as you can tell from the pictures, overall the car looks great. This C6 Z06 is a unique example that has been modified specifically to make it a reliable and very rewarding car for road course duty and autocross, and if that's what you want a C6 Z06 for, this is a great deal, "easy button" buy for you, built and ready to go. Keep in mind the later-model-year C6 Z06s like this one have the better Bosch ABS system, 10 1/2 quart oil capacity, and the better-shifting, higher-torque-capacity TR6060 six-speed transmission.
Please contact me via email, phone, or text if you have questions or would like to look at and test-drive the car. I am in Longmont, CO, which is about an hour north of Denver and an hour south of Fort Collins.
My contact information and the VIN for the car are below the modifications and included-parts-and-tires list.
AFTERMARKET PARTS INSTALLED/INCLUDED:
Dewitts radiator $700
Setrab oil cooler $700
Trackspec Motorsports triple hood vents, black powdercoated $330 (
http://trackspecmotorsports.com/c6-c...louvers-t1-kit
)
Used OEM C6 Z06 fiberglass hood $250
Improved Racing 180-degree oil cooler thermostat (EGM-112) $200
Katech billet belt tensioner $120
Straub Technologies solid bushing rockers (346-1801) $320
Caspers Electronics Hi-Lo Fan Controller (102159) $100
Hinson Motorsports Remote Clutch Bleeder Line $50
West Coast Corvette High Flow Power Coupler Kit (31103960) $50
Recaro Pole Position seat $1,100
Recaro seat mounts $150
Recaro seat sliders $135
Sharkbar harness bar $350
Schroth Profi II 6-point camlock harness $385
Forgeline GA1R 18" x 11" / 18" x 13" wheels $6,000
Forgestar CF5 wheels (6) four 18" x 12", two 18" x 11", textured black $2,350
PSi Ohlins Raceline TTX-based double-adjustable coilovers $5,195 (
https://performanceshock.com/index.php?main_page=product_info&cPath=6 5_112_237&products_id=1183
)
Eibach 2.25" ID x 7" coilover springs (x 3 pair; 650#, 700#, and 750#: $120/pr x 3) $360
Van Steel camber plate kit $400
LG Motorsports G1 swaybars w LG quiet endlinks $1,000
Ridetech Delrin bushings $900
SKF Racing (ZR1 spec) front wheel hubs (#5044C) $800
Corsa Extreme catback exhaust (w 4" Pro Series tips, #14164) $1,800
Corsa XO 3" crossover pipe (#14173) $450
DIY 3" aluminum muffler delete/trailer hitch enable exhaust tips $35
Stoptech Trophy brakes (6-piston 380mm front) $4,300
Stoptech Trophy brakes (4-piston 350mm rear) $3,700
Stoptech SR34 track pads for Stoptech ST-60 front caliper (334.8011.18.0) $275
Performance Friction PF-11 pads for Stoptech ST-40 rear caliper (63-661-0372, pad shape D372/D609) $408
APR GTC-500 rear wing $1,500
APR front lip / splitter $900
PFADT/aFe Control front tow hook (450-401005-R) $100
Suede steering wheel $270 (
http://www.corvettemods.com/Corvett...g-Wheel-2-Stitching-Color-Choices_p_5594.html
)
Blendmount radar detector mount $130
ARP 2.5" wheel studs (1007708) $100
Window tint $350
DIY 11/32" plywood + fiberglass cloth splitter with gas-charged shock supports, delrin sliders, aluminum endplates/fender extensions $160
DIY aluminum CAM-S class legal rear spoiler $60
Curt 11380 trailer hitch + 1 7/8" ball mount $300
Homebuilt aluminum enclosed 50" x 72" mini trailer w/ leaf springs and 4.8" x 12" tires $400
TOTAL: $37,183
INCLUDED PARTS:
OEM hood (original, matching cyber gray metallic)
OEM power leather driver's seat
OEM crossover exhaust pipe
OEM fog lights
Extra splitter, splitter supports, splitter hardware
Spare Grade 10.9 lower control arm fixing bolts
Spare serpentine belt (OEM)
Spare spark plug wires (OEM)
Spare used Hoosier tires (345/35-18 A7 x1, 315/30-18 A6 x2)
Spare OEM GM TPMS
RECENT NEW PARTS:
rear transaxle mounts (OEM)
clutch master cylinder (OEM)
rear upper control arm bushings (installed before One Lap, May 2018)
Stoptech 380mm x 32mm front rotor rings (installed before One Lap, May 2018)
Stoptech front caliper piston seals (completely rebuilt before One Lap, May 2018)
New spherical bearings for PSi front coilovers (July 2018)
Stoptech SR34 front brake pads (installed August 2018)
Oil change (Red Line Oil 40-weight synthetic race oil, 11 quarts, which is $150; August 2018)
New trailer tire (installed Sept 2018)
FULL SETS OF USED TIRES INCLUDED (35% to 85% tread remaining):
BF Goodrich Rival S, 315/30-18 F, 335/30-18 R ($1,538/set new)
Hoosier A7, 315/30-18 F, 345/35-18 R ($1,684/set new)
BF Goodrich R1S, 315/30-18 F, 335/30-18 R ($1,498/set new)
egbeater @ gmail dot com
72O 938 1 4 O 3
2013 Corvette Z06, cyber gray metallic / ebony (1LZ)
VIN:
1G1YJ2DEXD5107690
MILEAGE: 46,800 (will go up slightly between now and time of sale)
TITLE: Colorado, clean
DYNO: 468.75 whp, 429.85 wtq (corrected)
Album of pictures here: https://postimg.cc/gallery/mubyu492/
---
Last edited by EGbeater; 01-11-2019 at

09:06 PM

. Reason: changed current mileage
10-10-2018, 08:20 AM
Junior Member
---
10-10-2018, 01:08 PM
Junior Member
Member Since: Oct 2018
Posts: 1
Thanks: 0
---
Just chiming in here as a reference.
I've known the seller for 14 years. He's an extremely experienced autocross and track aficionado, and has owned and built many cars for this purpose. He's also an all around great guy and pro-level seller.

Besides the car, impressive parts list, and extras, I'd add that the value added factor of this particular Corvette is that it's been meticulously sorted out by someone who knows what they're doing and who knows a lot of other people in the sport/business to draw knowledge from. If you're in the market for a well-developed reliable track toy you can't go wrong with this one!
10-10-2018, 07:31 PM
Junior Member
10-16-2018, 12:19 AM
CF Senior Member
---
Hahahaa I watched the first HPR vid and thought this guy is modest. You are SLAYING HPR in that vid. And 140 on the front straight is no joke for a car with no h/c or tune. Bravo!
10-16-2018, 08:57 AM
Junior Member
---
Thanks, I've done hundreds of laps at HPR so no excuses for unfamiliarity... I'll maintain without any false modesty that I know people who could hop into my car and within a couple sessions be trimming time off my fastest lap ever.
12-20-2018, 01:33 PM
Junior Member
---
Anyone wanna buy themselves a pretty cool Christmas present?? Or give a really good friend an amazing one? Lol.
Price can be reduced a bit without the trailer and if you only want one set (four) wheels...
Contact: egbeater @ gmail dot com or 72O 938 1 4 O 3
12-25-2018, 08:29 AM
CF Senior Member
Member Since: Sep 2014
Posts: 110
---
Watching that G meter is insane!! Wow, what a rush that car must be
12-26-2018, 08:21 PM
Junior Member
---
It's pretty fun. The lateral acceleration and braking decel capabilities of the car are definitely stronger than the straight-line acceleration forward. But of course it's easy to "add horsepower" with an LS; just add money...
01-11-2019, 11:09 PM
Junior Member
---
Most recent track video... this is on street tires (BFG Rival S), and the external mic for the GoPro is mounted on the rear license plate, directly above the (unmuffled) exhaust tips. The car is not anywhere near that loud in-car or to people outside the car:
The difference between my best laps at this same track (High Plains Raceway; Deer Trail, CO) in my car on Hoosiers vs Rival S:
3.68 seconds
(on 2.55-mile long, sub-2:00 course)
These best lap times were on different days though, so not an exact comparison of purely the difference between R-comp grip and 200TW street-tire grip. The rear wheel width is 13" for the Hoosiers; 12" for the Rival Ss. And of course my driving is hardly consistent enough to be discounted as an insignificant variable...
---
Last edited by EGbeater; 01-11-2019 at

11:16 PM

.