Escort 9500ix and Blendmount Package
01-09-2015, 10:53 AM
CF Senior Member
Member Since: Mar 2011
Location: Land O' Lakes/Tampa Florida
Posts: 1,509
St. Jude Donor '12-'13-'14
---
I'm pretty sure you can do all of that in Detector Tools on your computer when you do the regular updates for your radar detector.
If you don't find it there, give this site a try. Very knowledgeable people over there.
http://www.escortradarforum.com/forums/index.php
Hope that helps.
08-03-2015, 09:19 AM
Supporting Vendor
Member Since: Jun 2005
Location: Marietta Georgia
Posts: 15,073
St. Jude Donor '06-'07, '13, '15
---
We love the Escort 9500ix here at Southern Car Parts. Since its release, the
Passport 9500ix by Escort
has been one of our personal favorite products, and has consistently been amongst our most well-reviewed.
Recently, we added a new product line to our catalog as well: the
BlendMount line of radar detector mounts
. We've been selling them for a little over a month now, and they're being as well received as the 9500ix. With that in mind, they seemed like a perfect match, so here it is,
a BlendMount/Escort 9500ix package deal
.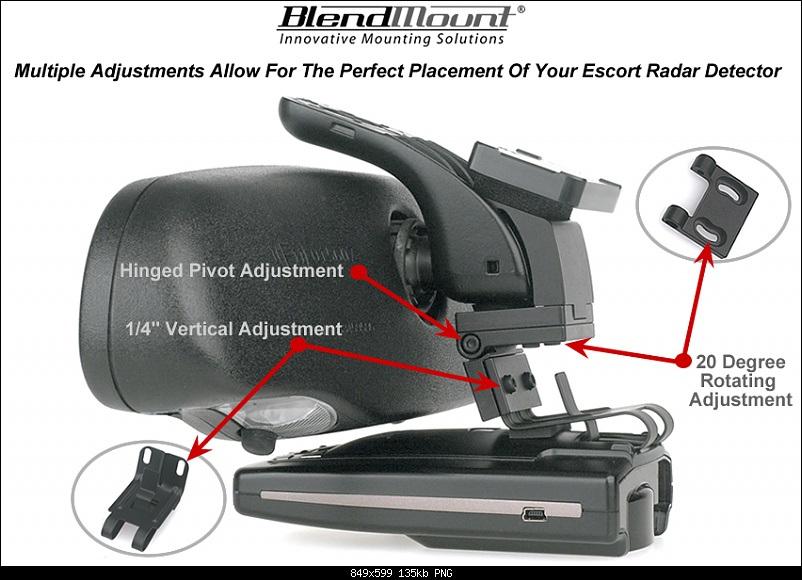 By ordering these items together in this bundle you're getting both of them at less than the MSRP cost of the Escort Passport 9500ix alone, and at $20 less than if you purchased them separately on our already discounted website! What you're getting, at those great prices, is one of the best radar and laser detectors on the market anywhere, and the perfect companion piece for it to give it a great, low-profile, easy installation.
Every single employee here at SouthernCarParts uses the 9500ix, and a lot of us have started moving towards using the BlendMount as well. If that's not a glowing recommendation for these products, I don't know what is!
So, we're happy to offer this new discounted bundle for the Escort 9500ix, BlendMount Corvette Rear View Mirror Radar Detector Mount, BlendMount Mirror Tap, and more!
For more information, and to order the bundle, just visit our website here:
Escort 9500ix and BlendMount Radar Detector Complete Package
Make sure you use the coupon code "escort" when checking out....