SCP is your source for Corsa Performance Exhaust – Best Selection and Prices!
09-04-2015, 05:49 PM
Supporting Vendor
Member Since: Jun 2005
Location: Marietta Georgia
Posts: 15,140
St. Jude Donor '06-'07, '13, '15
SCP is your source for Corsa Performance Exhaust – Best Selection and Prices!
---
C6 Corvette Corsa Exhaust Systems from Southern Car Parts!
With straight through designs in two sound levels to choose from, we are sure there is a drone-free aggressive-sounding Corsa exhaust that's perfect for you.
Here's some info on the types of sounds you can get from these Corsa systems:
CORSA SPORT exhaust system is Corsa's Mid-Level Sounding exhaust and is best described as producing a bolder sound most evident between 3000 – 5000 RPM WOT. Corsa Sport Exhausts are characterized by High performance sound a distinct rumble at idle and aggressive sound through the gears but still no drone during cruising. This is a great choice for customers who want an aggressive sounding unique exhaust but who do not necessarily want to hear it all the time.
CORSA XTREME systems are Corsa's newest systems which are the loudest most aggressive systems Corsa offers. XTREME systems feature a deep growl at idle, bold during acceleration, and screams at high RPMs and still no drone at Cruise.
As for the tips, Sport systems will include Polished Double Wall Quad 3.5" Pro-Series Tips and Xtreme systems will include your choice of either 3.5" or 4" Pro-Series Tips.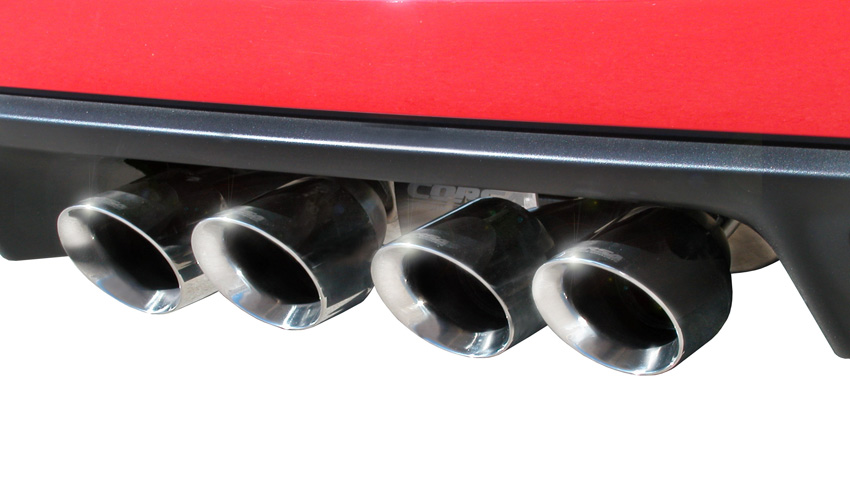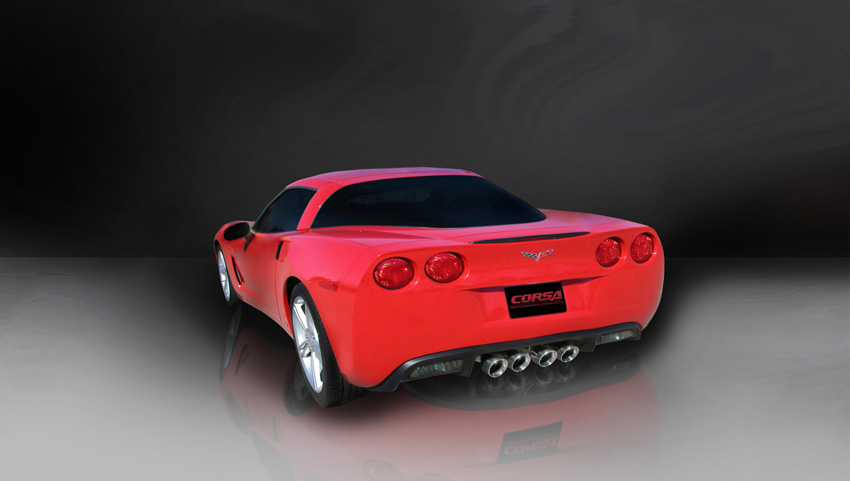 CORSA straight-through design coupled with RSC™ noise cancellation technology allows us to tune out the undesirable low frequencies that cause droning, while reducing back pressure. A reduction in back pressure allows the engine to produce more horsepower and torque. Sound waves are reflected within the muffler case, producing a cancellation wave effect, with no flow restriction and without electronic devices.
Corsa Exhausts Feature:
- All 304 stainless steel construction, crafted with pride and precision in the USA
- Flow bench-tested 64% gain in exhaust flow vs. stock muffler
- No welding or cutting required; Bolt-on installation
- Includes hardware and detailed, full-color installation instructions
- 50-state emissions legal
- Limited lifetime warranty for as long as you own your C6
- Increased Flow and Less Backpressure - resulting from a straight-through, nonrestrictive design
- Great Performance Sound - we tune in the good sounds and cancel the bad, without the use of baffles or steel wool packing material
- There is no drone with the CORSA exhaust system because the CORSA exhaust system uses RSC technology to eliminate problem frequencies that cause interior drone/resonance at cruising speeds. CORSA's Chevrolet Corvette exhaust system features a patented non-restrictive Straight-through design reduces back pressure and frees up additional power resulting in improved horsepower and torque. As an additional bonus, your Chevrolet Corvette can result in greater fuel economy because of less back pressure and more power
Corsa Exhausts feature 304 Stainless construction throughout and are made in the USA. Corsa dB Series exhausts are their lower cost alternatives for trucks that feature mixed materials for construction and single wall tips depending on application.
NOTE: An additional $50 Rebate is available on select exhaust systems, please inquire at time of purchase.

Order here:
Corvette C6 2005-2008 Corsa Sport Exhaust System 14169
Corvette C6 2005-2008 Corsa Extreme Exhaust System 14469
Corvette C6 2009-2013 Corsa Sport Exhaust System 14108
Corvette C6 2009-2013 Corsa Extreme w/ 3.4" Tips Exhaust System 14470
Corvette C6 2009-2013 Corsa Extreme w/ 4" Tips Exhaust System 14959
Corvette C6 Z06 Corsa Exhaust System 14164
---
Last edited by southerncarparts; 09-04-2015 at

06:02 PM

.
01-09-2019, 11:02 AM
Supporting Vendor
Member Since: Jun 2005
Location: Marietta Georgia
Posts: 15,140
St. Jude Donor '06-'07, '13, '15
---
Thanks for considering Southern Car Parts!