New combo deal from SCP! Speed Master Wheel Brush and Ultimate Cloth Combo!!!
04-21-2016, 04:31 PM
Supporting Vendor
New combo deal from SCP! Speed Master Wheel Brush and Ultimate Cloth Combo!!!
---
Daytona Speed Master Wheel Brush and Ultimate Cloth 5 Pack Combo Deal - Save $6.00
Our two most popular Corvette cleaning items are now available in a combo package to save you money. We've bundled the Daytona Speed Master Wheel Brush and Ultimate Cloth 5 Pack togehter to save you money.
Daytona Speed Master Wheel Brush
Clean all wheels with speed and precision!
The Speed Master Wheel Brush is the most advanced wheel detailing brush today! Built for quick, effective cleaning of all wheels, the Speed Master Wheel Brush has a state-of-the-art design that cleans any wheel surface and any wheel design – without scratching! Brake dust beware! There's nowhere to hide from the Speed Master Wheel Brush.
Regular, thorough wheel cleaning is imperative for all vehicles. Brake dust is highly corrosive to wheel finishes, and it is generated each and every time you apply the brakes. Brake dust is made of brake pad dust and red hot metal filings from the rotor. This volatile mixture eats through protective wheel finishes and pits the metal, permanently eliminating that bright metallic shine.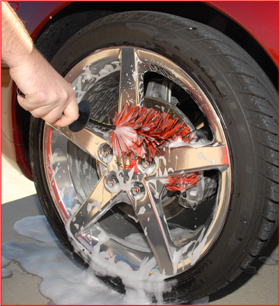 The braking systems in many vehicles generate a lot of brake dust. Coincidentally, these vehicles often have the expensive alloy wheels with intricate spoke designs. These wheels look unbelievable when they're clean, but how are you going to keep them clean?
The Speed Master Wheel Brush. This advanced wheel brush has everything you want in a quality detail brush and much more. The staff and I at Palm Beach Motoring studied all the various brushes on the market and compared their pros and cons. Ultimately I took our wish list for the perfect wheel brush to Dean Henderson at EZ Detail Brush, Inc. Dean had already created the ultimate motorcycle detailing brush with the EZ Detail Brush. With a few modifications, I knew we could create the ultimate auto detail brush.
Dean manufactured the Speed Master Wheel Brush to my exact specifications, right down to the hot rod red bristles. In addition, the Speed Master Wheel Brush has a thicker, reinforced stem. It maintains its flexibility but the new stem is more rugged for frequent use on auto wheels. The bristles are slightly feathered on the ends to gently clean delicate wheel finishes, such as coated or plated wheels, without scratching.
Here are the benefits of the Speed Master Wheel Brush:
Soft, nonabrasive 2 inch bristles. Whether the wheels are aluminum or clear coated, they can be scratched by the wrong brush. The Speed Master Wheel Brush features nylon Nylex bristles that are both flexible and durable. The end of each bristle is feathered to provide an extra gentle touch on delicate wheel finishes. Use the Speed Master Wheel Brush on highly polished aluminum, chrome, stainless, clear coated, and painted wheels with confidence.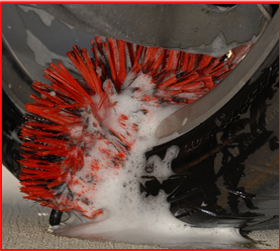 Patented memory bristles regain their shape. Detail brushes can lose their shape and their functionality over time because they're pressed into the grooves and crevices of your car. The Speed Master Wheel Brush has special memory bristles that regain their shape after every use. Simply rinse the brush in hot water and hang it upside down to dry. The bristles will settle back into their original shape, just like new. Memory bristles allow the Speed Master Wheel Brush to remain effective when other brushes fall short.
Chemical resistant.The Speed Master Wheel Brush's synthetic bristles can withstand all wheel cleaners and degreasers, even powerful aluminum wheel cleaners. Whereas natural bristles can eventually become dry and brittle, the bristles on the Speed Master Wheel Brush stay smooth, soft, and flexible.
Fits all wheel designs.The Speed Master Wheel Brush may look like a big brush, but it fits in the smallest spaces. Clean between wire spokes and even between the brake caliper and the wheel! The flexible bristles easily fold against the stem to a ½ inch thickness. When you're finished cleaning the wheels, rinse the Speed Master Wheel Brush in hot water and hang to dry to restore the brush's original shape.
Reinforced, flexible stem. Many of today's wheel designs give you full visibility through the wheel. Brake dust literally has nowhere to hide! The Speed Master Wheel Brush is the solution. The upgraded, vinyl-coated wire stem flexes to reach all the way through the wheel to clean the edge on the other side! The 13 inch stem is of a heavier gauge wire to give it flexibility and stability. The vinyl coating protects the wheel from scratching. In fact, if you pull the bristles apart, you can see that the wire is completely covered for the entire length of the brush.
Safe bonded tip. The tip of the Speed Master Wheel Brush is coated in vinyl to protect the wheel from contact. No part of the internal wire stem is visible so there's no chance of it scratching the wheel as long as the bonded tip stays in tact.
Knuckle guard protects your hands. A rubber guard above the handle helps protect your hands from cleaners or scrapes, because we know you really get into your work. An ergonomic handle makes cleaning comfortable.
AND Our Ultimate Cloth 5 Pack
Get the best cleaning cloth ever introduced. Cleans all hard surfaces (glass, granite, steel, painted surfaces, etc) with only water. Leaves a clean, streak free surface. It is completely reusable and washable. This is one of the best inventions since the paper towel and lasts forever (5 year guarantee). This is not a imitation (many on the market), but the real patented Mira fiber cloth.
Are you Fed up with the Film or Haze left behind from your chemical cleaners that give you Streaks and Spots? Do you want to quickly Clean your Windows, Glass, Mirrors & Windshield, Plus hard surfaces like Corian, Granite, or Stainless Steel? Well we have an answer that is NOT a gimmic but really work. Check out the Ultimate towel, it Cleans and Polish Windows, Mirrors, Windshields, Glass, - ALL Hard Surfaces. It leaves a Streak Free, Spot Free, Lint and Dust Free Surface and does this in half the time of traditional spray on and wipe off techniques.
Ultimate Cloth measures 13.5" X 15.5". Made from the highest quality
MiraFiber
, the cloth excels at cleaning all the hard surfaces of your home and businesses.
The cloth is washable and can be reused over and over again. This is the best invention next to the light bulb!!!! Trust me, this handy little cloth makes cleaning your windows a cinch!!!! Money Back guarantee!!!
MONEY BACK GUARANTEED!
USE THE ULTIMATE CLOTH ON ALL YOUR HARD SURFACES. Find out for yourself the surfaces you will enjoy using the cloth on. We get calls all the time from customers saying how much they love the cloth not only for their glass, mirrors, windshields, etc… but also for their counter tops, appliances, stainless steel, black & glass topped appliances, corian, marble, granite and more!
When you do fall in love with the cloth - and you will - TELL YOUR FRIENDS & FAMILY ABOUT THE ULTIMATE CLOTH . It's just too good not to share.
Above all, enjoy the money & time this cloth will SAVE you.
"I can get a Microfiber cloth at any local retail outlet, Mirafiber versus Microfiber, what is the difference?"
Good question. As a matter of fact, I couldn't find the term 'microfiber' in the Webster's Ninth New Collegiate Dictionary (copyright 1985) dictionary.
So, like every good internet 'junkie', I went to the web and finally hit pay dirt. Here are the two definitions I found:
mi-cro-fi-ber [mahy-kroh-fahy-ber] - noun - a very fine polyester fiber, weighing less than one denier per filament, used esp. for clothing.
[Origin: 1985-;90] microfiber.Dictionary.com. Dictionary.com Unabridged (v 1.0.1), Based on the Random House Unabridged Dictionary, © Random House, Inc. 2006.
http://dictionary.reference.com/browse/microfiber
Let me explain in plain english what I know about microfiber. It's simply a term for very fine synthetic fibers - usually about 1/100 th - 1/200 th the diameter of a human hair. After that - as they say… all bets are off because there are hundreds of variables such as:
What the synthetic fibers are in a particular fabric. - i.e. are they polyester, rayon, nylon, polymide, etc What the percentages of the specific fibers are - i.e. are they 10% polyester/90% polymide; or 30% polyester/70% polymide; and then, again, maybe 10% nylon/90% polyester? AND...
How are they put together? Sewn, woven, spun, etc.
Order here:
http://www.southerncarparts.com/dayt...bo-p-6843.html