Spiike's White C7 Photo blog, Mod log, and Introduction
07-07-2014, 05:57 PM
CF Senior Member
Spiike's White C7 Photo blog, Mod log, and Introduction
---
Hello everyone,
After 7 months of waiting, changing my order between 1LT and 2LT, changing dealerships, GSU, and constraints... I am happy to now post pics of my project car. As a 30 year old mgmt consulting mgr, fun cars definitely keep me sane during crazy work schedules. After landing my dream job, I am very happy to finally drive my dream car and share with you guys the journey of all the mods from a mod addict.
I need to commend Les Stanford on a very smooth delivery. I recommend those to call and not email since their sales advisers are always busy. I didn't have Dennis, but overall Tony tried very hard to make me happy as a customer. The order process was smooth with prompt emails, and the delivery was easy with Tony picking me up from airport, paperwork taking no longer than 30 mins, and after training on the car's functions like removing the roof, driving off the dealer in less than an hour. Reflecting on my experience, I would grade it an A.
Car:
2014 Arctic White/Adrenaline Red, 2LT, NPP, FE4, TTV, Z51.
Initial mods include:
35% tint and xpel on the entire front, rocker and rear. Future to-do mod list is 33 items long at the moment, so it will be a fun journey. Half of the mod list is DIY carbon fiber parts which I will document thoroughly.
I attend several rally and autobahn events in Chicago through ChicagoRally, Hooked On Driving, and LAPs Inc. The group is younger than the few vette meets I've been to (avg age early/mid 30's), but anyone is welcome to attend. I'm starting this thread as a photo blog on the events I attend as well as Mod log.
Chicago Rally 6/29/14
Link to Full Album
Stingray pics
My favorite pic so far. R8, Stingray, and 458 leading the Rally:
Ferrari 458 and Stingray staring at each other...
Other Fun Cars from Chicago Rally 6/29/14
Nice turn out
All the way in the back... you can see my red seat. lol!
Super Car Saturday 7/5/14
Car made it to Jalopnik! 6th pic from the bottom.
http://oppositelock.jalopnik.com/sup...+matthardigree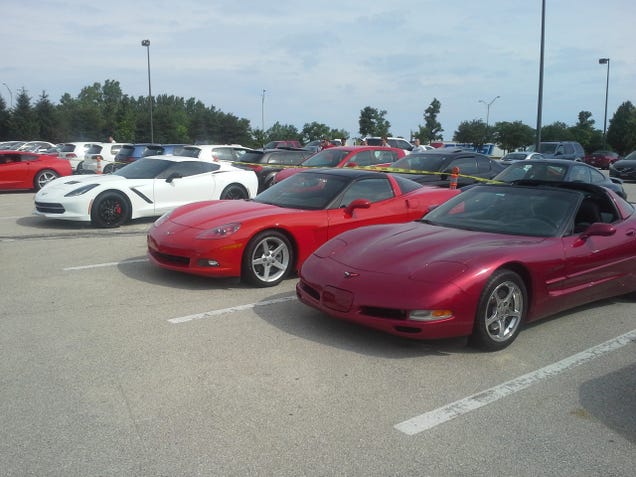 I do a ton of DIY installs (
Prior DIY fun/race car
), so stay tuned for vids, mod install diy, etc. More pics to come...
---
Last edited by spiike32; 07-07-2014 at

06:00 PM

.
07-07-2014, 07:04 PM
CF Senior Member
Member Since: Sep 2013
Location: Ft Lauderdale
Posts: 10,259
Tech Contributor
---
welcome - delete your duplicate thread - go advanced - delete...
07-07-2014, 09:07 PM
CF Senior Member
Member Since: Feb 2011
Location: Edmond, Oklahoma
Posts: 7,345
---
Congratulations on your new Vette.
Great looking Vette. Mine is similar to yours, but 1LT. I have had mine about 5 weeks.
Arctic White is my favorite color on a C7.
Have fun in your Vette. And thanks for sharing the pictures and link.
07-08-2014, 10:03 AM
CF Senior Member
---
I changed mine from 1LT to 2LT to back to 1LT then back to 2LT. End of the day seat cooler isn't the best, can't really see the HUD with polarized sunglasses during the day, but the upgraded sound system makes up for the HUD and seat cooler.