The New Chevy C8 Corvette will star at the Concours d'Elegance of America in Michigan
07-11-2019, 10:12 AM
CF Senior Member
The New Chevy C8 Corvette will star at the Concours d'Elegance of America in Michigan
---
The New Chevy C8 Corvette Will Star at the Concours d'Elegance of America in Michigan July 26-28
https://www.caranddriver.com/news/a28353739/concours-of-america-chevy-c8-corvette/
GM's design chief will discuss the new mid-engined Corvette C8 that is appearing fresh from its July 18 debut, while classic Ferraris, Bentleys, and Cadillacs, among others, will also be present in abundance.
By
KEVIN A. WILSON
JUL 10, 2019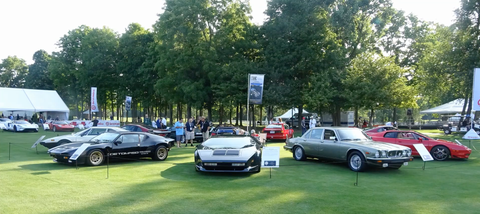 Concours USA
A GM spokesperson confirmed to C/D that the Chevrolet C8 Corvette will appear in Plymouth, Michigan, at the Concours d'Elegance of America event.
The appearance is part of a public seminar featuring GM design chief Michael Simcoe to be held on Saturday, July 27, but the Corvette will also be viewable on concours day: Sunday, July 28.
Classic cars from Ferrari, Bentley, and Cadillac, among many other marques, will be in abundance at the annual event.
General Motors vice president for global design Michael Simcoe will present a public seminar discussing the design challenges and processes behind development of
the next-generation C8 Chevy Corvette
on Saturday, July 27, in one of many events surrounding
the 2019 Concours d'Elegance of America
in suburban Detroit. The mid-engined sports car is being revealed in California on July 18, and this event is likely to be the first opportunity for the public to see the new Corvette. Also at the seminar will be other GM execs and designers, including former Corvette design chief Tom Peters. The mid-engined Corvette will stick around for concours day on Sunday, July 28, GM confirmed.
The following 3 users liked this post by 69:
07-12-2019, 12:49 AM
CF Senior Member
Member Since: Apr 2018
Location: Metro Detroit MI
Posts: 141
---
Thank you for posting this, 69!
Tickets purchased for Sunday!
I can't wait to see the C8!
(I'm also looking forward to walking through the entire display of many fine automobiles.)
Since I can't be at the reveal, I can at least be at the 2nd appearance of the C8.
07-12-2019, 09:26 AM
CF Senior Member
Member Since: Dec 2015
Location: Montréal
Posts: 1,302
---
After the reveal this car will be all over the place
07-12-2019, 10:15 AM
CF Senior Member
Member Since: Mar 2010
Location: Brighton Mi
Posts: 842
Likes: 0
---
Black Pantera yeah.

I just saw a red one at a local car show. That engine was SMASHED in there but the great thing was that there was no BS other stuff surrounding it.
---
Last edited by thirtythird; 07-12-2019 at

10:17 AM

.