The New Chevy C8 Corvette Will Star at the Concours d'Elegance of America in Michigan
07-11-2019, 12:05 PM
CF Senior Member
The New Chevy C8 Corvette Will Star at the Concours d'Elegance of America in Michigan
---
Plymouth Michigan
69
, Today 10:12 AM
Links below for the cars and coffee event and seminar tickets
Goose
The New Chevy C8 Corvette Will Star at the Concours d'Elegance of America in Michigan July 26-28
https://www.caranddriver.com/news/a28353739/concours-of-america-chevy-c8-corvette/
GM's design chief will discuss the new mid-engined Corvette C8 that is appearing fresh from its July 18 debut, while classic Ferraris, Bentleys, and Cadillacs, among others, will also be present in abundance.
By
KEVIN A. WILSON
JUL 10, 2019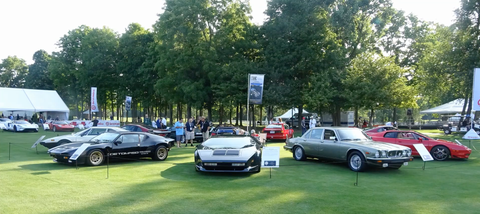 Concours USA
A GM spokesperson confirmed to C/D that the Chevrolet C8 Corvette will appear in Plymouth, Michigan, at the Concours d'Elegance of America event.
The appearance is part of a public seminar featuring GM design chief Michael Simcoe to be held on Saturday, July 27, but the Corvette will also be viewable on concours day: Sunday, July 28.
Classic cars from Ferrari, Bentley, and Cadillac, among many other marques, will be in abundance at the annual event.
General Motors vice president for global design Michael Simcoe will present a public seminar discussing the design challenges and processes behind development of
the next-generation C8 Chevy Corvette
on Saturday, July 27, in one of many events surrounding
the 2019 Concours d'Elegance of America
in suburban Detroit. The mid-engined sports car is being revealed in California on July 18, and this event is likely to be the first opportunity for the public to see the new Corvette. Also at the seminar will be other GM execs and designers, including former Corvette design chief Tom Peters. The mid-engined Corvette will stick around for concours day on Sunday, July 28, GM confirmed.
07-11-2019, 06:23 PM
CF Senior Member
---
No online streaming reveal like C7?
07-11-2019, 06:29 PM
CF Senior Member
Member Since: Jul 2018
Location: Fort Wayne, IN
Posts: 1,558
---
hmmm, close enough for a nice day trip!
07-19-2019, 12:56 PM
Corvette Enthusiast
Member Since: Oct 2005
Location: Troy & Dearborn Michigan
Posts: 4,917
---
Good, I'll know where to not go so my eyes don't burn and fall out.

I'm a vocal hater of the C8, mid-engine cars, and cars without chome wheels, manuals, traverse leaf springs or usable storage. Oh and of terribly designed ergonomically poor interiors.

#JustSayNoToTheC8
---
Last edited by LT1 Z51; 07-19-2019 at

12:57 PM

.
07-19-2019, 05:11 PM
CF Senior Member
Member Since: May 2004
Location: Willowbrook IL
Posts: 1,755
St. Jude Donor '13-'14-'15-'16
---
Don't hold it back, tell us how you really feel
---
Last edited by vetsvette2002; 07-21-2019 at

09:13 PM

.
Today, 12:11 PM
CF Senior Member
Member Since: Mar 2012
Posts: 169
---
Looking at making a trip to see the C8 since I have a deposit down and I'm not totally sold on it yet. Does anyone know if we will be able to see it on Saturday without purchasing the GM seminar tickets or would Sunday be a better bet?