Building the worlds largest LS - HPR527
11-09-2018, 11:06 AM
Supporting Vendor
Building the worlds largest LS - HPR527
---
Over the past year or so we have been working to develop the worlds largest LS engine and have begun final machine work and moving towards assembly now. I am going to start a build thread here this week, but it might take a few days to sort through and begin posting photos.
Please keep in mind somethings we will not go into exact details but most things you guys should get to see pretty close up on how something like this is done. The plan is to engine dyno, do some cam testing, and then get them into vehicles for testing. The first two are being done side by side with one being a more dedicated drag race setup while the other is going to be a more radical "street" setup if you will. A more endurance/road race setup is on paper and might be possibly coming in 2019.
Stay tuned!!!
11-16-2018, 04:36 PM
Supporting Vendor
---
Assembly should officially start next week and we will work on getting pictures prepped and ready for posting along with a full detail of what all is going on.

The blog will feature this as things go together, not really how it was planned, to do that you would have to read the article in reverse.....starting with the intake.

So before I take off for the weekend I will leave you with one more sneak peek into the build showing off the 5 stage ARE dry sump that will be used on both 527's.
11-17-2018, 11:50 AM
CF Senior Member
---
11-19-2018, 09:33 AM
Supporting Vendor
---
Originally Posted by
C6-CYa
That is where we got our inspiration from to do and I believe we are 1/2 a cube larger (at this size its hard to go leaps and bounds bigger). Of course we are shooting for a bit lower cost than an all out race build with the canted valve heads like they are using too
11-19-2018, 01:45 PM
Supporting Vendor
---
While I gather pics and do the write up's I'll give you guys some teaser video's along the way..
11-21-2018, 05:31 PM
Supporting Vendor
---
One more peek into the 527 builds before the holiday
11-30-2018, 09:02 AM
Supporting Vendor
---
We have been assembling both engines and they will be on display at PRI this year at the ARE dry sump both and CID cylinder head booth. If we don't get time for installment #1 on the write up before PRI, the build will start when we get back.

Stay tuned!
12-01-2018, 12:29 PM
Supporting Vendor
---
Sneak Peek before the show.
Write up will have to come after we get back from the show.
12-13-2018, 04:30 PM
Supporting Vendor
---
Finally getting caught up after PRI so look for edition #1 coming here in the next day or two.
01-02-2019, 12:10 PM
Supporting Vendor
---
Where to start, I guess the easiest point would be at the block and work our way through that.
A bit of history should be explained first. As some have already pointed out there is another big LS out there that is also listed as a 527 from a company in Australia that is more of a dedicated race only deal, sold for around $100k. Ours is only slightly larger and should be selling for a bit less than a six figure price tag, although it could very easily get there depending on options and how far you wanted to take it.
During this write up you may see pictures of two different engines and there are two going together at the same time. One is a more 1/8 and 1/4 mile setup while the other will be a street / strip / drag week kind of build. Both are going to be a bit on the aggressive side, make no mistake about it but the end goal will be to have the drag engine well past the 1000hp mark (flywheel). There are going to be a few items that will NOT be given in exact details. Final stroke, rod length, or piston design will not be given during our discussions but you will see pictures of them of course. So here we go......
Part 1:
The block
When building an engine of this size, your choices on engine blocks are far and few between. Since we are dealing with a crankshaft well over 4.500" of stroke, it will have to be a tall deck to handle this kind of stroke. In the tall deck range of items you have the LSx, RHS, Concept 1, and Dart blocks to choose from. We wanted to have a few more options for cam size selection and it needs to be raised to be able to clear the connecting rods. Being a raised cam eliminates the LSx, and at the time the Concept 1 block but they are suppose to have a release on a raised cam block. For these two builds we decided on the RHS being we have done some big stroke setups in these blocks before and have not had any issues with them.
RHS block out of the box
As the blocks come, they feature a 0.388" raised cam location, 55mm cam bearing journals, std LS main journals, 9.750" deck height, billet main caps, cam retainer plate, rear cover, and plug kit. They will accept OE wet sump, OE dry sump, or aftermarket dry sump oil systems as well as OE style timing chains. They do require the use of a link bar style lifter.
Once the blocks are out and inspected for damage during shipping they head directly to the boring bar to rough size in the cylinders. The blocks ship with a rough size of 4.120" and we are having to bore a bit larger than that.
Boring each cylinder to rough size
Once we have the cylinders roughed into size the blocks are placed on the surfacer to check deck height and milled perfectly flat. Once finished there, they go into the hone with a torque plate and cylinders are brought to their final size and surface finish. Now that we have a workable cylinder that will accept the piston they are mocked up prior to the mill.
Blocks are clearanced for stroke in a number of places.
First the crank is laid in place and spun to make sure there are no issues with the crankshaft itself.
Once the crank is free and clear, we install one rod and piston into the block and check for proper clearance, machine as needed.
Now these are done in a little different order than your normal 416/427/454/468 build in that typically we take the blocks directly to the mill first to clearance the block and cylinders for the increased stroke. When dealing with this many custom parts and displacements of this size we have to mock it up and cut as we go to insure we are leaving as much material as possible for strength and support. To add to that, each of these two blocks have shown some variation to them inside the crankcase and we increased stroke slightly from the last build, so EVERY 527 will have to be checked, clearanced, and checked again as needed to make sure everything fits nicely before clean up and assembly.
Now that we are sure the rotating assembly will have no problems turning over, we bolt all of the main caps back into place, torque to spec and check the main housing bore size. If needed the blocks are line honed to size before moving to the final steps before wash.
A couple steps added to the race setup. (#bigboned) We are going up to a 60mm camshaft journal from 55mm (stock OE), machining the front cover for a Jesel belt drive, and installing 0.937" diameter key way Jesel lifters due to the larger camshaft this engine will be using over the other. These steps are vital on a higher RPM, big lift engine to help remove stress from the valvetrain, allow a larger base circle cam and help to remove some harmonics from the valvetrain. More on that later.
60mm babbet cam bearings installed (still have room to go larger if needed).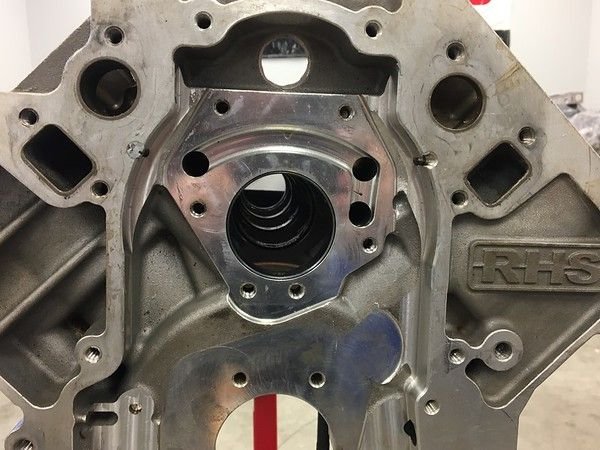 Front cover machined for Jesel belt drive
Jesel 0.937" keyway lifter bushings.
Once both blocks were finished maching they are washed by hand / pressure washed to insure no debris are left behind in any part of the block, blown dry and moved into the assembly room for prep.
Final block wash by hand / brush / pressure washer outside and in.
Next step is laying out the rotating assembly and bearing clearances.
---
Last edited by HP RESEARCH; 01-02-2019 at

12:54 PM

.
01-02-2019, 06:35 PM
U*S*A-Love It or Leave It
Member Since: Oct 2006
Location: Trump in 2020!
Posts: 15,102
St. Jude Donor '08-'09-'10-'11-'12-'13-'14-'15-'16-'17
NCM Member '09
---
01-03-2019, 03:22 PM
Supporting Vendor
---
Part 2: Rotating parts
A key component in any build is going to be the crankshaft. Many think cranks are cranks. You have cast and forged....stock and stroker, but there is far more to it than that. Given no one makes a crank in this stroke for the LS engine, it had to be a custom billet piece no matter what we did. Callies, Windberg, and Bryant Racing all provide services to build one off or small runs. Given we have worked with all of these in the past, we felt Bryant Racing to be the best at what they do on custom units like this.
HPR 527 LS crank by Bryant Racing
Now you might notice a few things on this one in that it looks a bit different than your standard LS crank, apart from the bigger than stock stroke. It has more than 6 counter weights for one. This is a 8 counter weight, or center counter weighted (ccw) crankshaft, being that every pair of rods now has a counter weight to balance it out. These are going to be heavier than your normal forging but offer a number of benefits from a stronger crank to one that has far less natural harmonics in it to shake the engine. We typically use these on any of our forced induction builds making over 1000whp, or any engine that is going to be turning higher RPM's for a longer period of time. That isn't to say it is the only reason as cranks such as these tend to flex less and offer longer main bearing life than their 6 counter weight brothers. Given our drag setup might see north of 8000 RPM and over 1000hp, again it made it a logical choice to go this route.
A second thing someone that has been around this might notice is the number of pieces of heavy metal. Bryant spends a lot of time designing the crank to offer the best way to keep the crank strong and fan height for the counter weight to offer natural harmonic damping. That being said we are using a relative light rod and light piston in these engines so bob weights are even lighter than what you would find in our 468 builds by 10-20 grams and lighter than more normal forged 416 build by more than that. That all being said a number of pieces of Mallory were needed to bring the crank into balance. Those working up a rough $ in your head, there is more cost in the heavy metal in one of these cranks than a stock LS7 crank is new.
Connecting rods.
For now we are using a custom Callies forged H beam rod with a few changes to it. Moving forward, HPR 527's are going to have our own connecting rods built for it as we have found a number of ways to improve upon the design, and take some weight out of the rotating assembly while maintaining strength.
Forged H beam rod
ARP 2000 7/16" rod bolts are used in the 527 as in most of our builds
What you have seen so far will be included in any 527 as the crankshaft and rod combo will be the same in all of them. Pistons however, we do have a few options and every customer engine will have pistons spec'd to his/her needs and application. This pair will be using Wiseco for the drag engine and CP for the street/strip combo. Each piston was done to our specs and designed by Erik and each respective company.
Street/Strip by CP.
HPR 527 piston by CP.
With the CP piston we did a number of things to strengthen and lighten the piston both at the same time. As in 99% of our builds it is a 2618 forging material, but we decided to do a strutted piston with a number of CNC lightening features to bring these in under 400 grams. By comparison the OE LS7 piston is 483 grams and most flat top forged aftermarket pistons are going to be north of 440 grams! A slight dish on these will allow us to bring the compression under 12.2:1 for normal pump gas mixed use that this will see.
support struts and milled pockets.
Above you can see the support struts going from either side of the pin boss down to the rail. This greatly strengthens the pistons tenancy to bend around the pin boss and bring strength to the sides of the piston since we are not using a "full round" piston that would have a skirt going all the way around the piston (which isn't needed thus helps reduce friction and weight by not having a full round). You can also see the pockets milled to either side of the pin boss to remove weight, and this was also done above the pin and under the head of the piston for not only weight removal but to make the piston as balanced as it can be around the pin so it will not have a natural rock to it on the rod.
Drag by Wiseco.
HPR 527 drag piston by Wiseco.
Wiseco's pistons are also a 2618 like all of their professional series pistons that we use. Unlike the CP piston this is a normal flat top design with the correct valve reliefs needed for over 1.000" of valve lift and the CID cylinder head valve location. Being the CID heads offer a rather small chamber size a dome was not needed to reach our desired compression which is north of 13.5:1 on this build.
Under side featuring full under head milling
You can sell the full under head mill on the Wiseco piston above. Again, all done in the name of weight and balance.
Piston pins
DLC coated piston pin
Both engines are running a rather thick walled piston pin, to control deflection of the piston at the small end of the rod. On the CP pistons, since it is more of a boxed design which will block some of the oil splashing up to the pin we added a bit of safety by going to a DLC coating on these. The DLC will help prevent the pin from galling to the rod bushing or the piston itself in the event there is lack of, or reduced oil flow to the pin. The Wiseco pin, is the same size, but un-coated since the piston is open on the bottom side and will have more than enough oil feeding to it. You might ask, why not do it on all engines? Well the DLC coated pins are typically 1.5 to 2x the cost of your normal tool steel pin which is already double what a typical pin is going to be. So it boils down to a costs vs benefit deal.
Rings.
In most of our custom piston designs we like to use a Total Seal Ring pack (not the gap less rings) because of their ability to provide us a number of custom features, sizes, and tensions. Following along in the trend of racers as well as the high performance OE designs we are running a smaller ring package. Top and second rings are slightly thinner than 1mm with a 2mm oil ring pack as you would find similarly in a OE LS7 package. Controlling skirt design, piston to wall, and ring tension we can do this and still have excellent sealing and oil control with these big engines, just as GM was able to do with the LS7 using a thin ring stack.
Ring lands
Total seal rings
Main and rod bearings were covered by Federal Mogul, and were coated for added protection.
---
Last edited by HP RESEARCH; 01-03-2019 at

03:24 PM

.
06-12-2019, 03:20 PM
Supporting Vendor
---
The holidays, PRI show, and customer orders have swamped us down a bit so I haven't had a lot of time to come back and update these threads....sorry for the delay....now back to the build.
Camshaft and Timing Set
527 Street
RHS blocks come with their own rear cover and gasket kit which must be used. Front covers are available in std post and long post style so you can run either style oil pump, or aftermarket dry sump (short post). Since all RHS blocks use a raised cam location, this means you have to use the correct timing set and chain length as well. Comp makes a number of these in 2 pole and 4 pole gears depending on your application.
RHS front and rear covers with Comp Cam dual roller timing set.
Custom ground cam to our specs by CompCams
As you can probably tell by the picture, this is using a rather large cam, and rightfully so. Now that we have larger heads, and a much larger engine we can more than make use of a larger cam. For our street setup it will be in the mid 260 duration with a little over 0.750 lift at the valve. This engine is also retaining the OE 55mm size cam bearing size as well.
RHS cam retainer plate
Timing set installed
Now that the cam retainer plate has been installed and the Comp dual row timing chain has been installed we can go about the std cam degree process and make any adjustments at the lower gear to advance or retard the cam as needed. Nice thing about the RHS is that the block as well as the timing covers are all pre machined for dual row chain clearance, unlike the OE covers that require a bit more attention to fit.
527 Race
For the "race" version of the 527 we are going a bit more radical (and may go further than this in the near future) by using a larger cam core, larger bearing, larger lifters, and belt drive timing set. Given we need a cam with over 1.00" lift at the valve this means the cam base circle needs to grow as well to maintain stiffness in the cam itself. So the next logical step up is going to a 60mm cam for easy of availability as well as cam lobes. *We may go to a 65mm or larger depending on what the dyno shows* For now, Comp again is handing the grinding of the cam with some help of Billy Godbold for lobe design. At this time we are not disclosing exact specs but duration is greater than 285 and lift is over 1.080" before lash and deflection.
Sliding the new cam in
60mm on the left, OE 55mm on the right. you can see how much larger even 5mm is
60mm to the left, OE GM 55mm on the right. Notice the relief cut on the lobes to ensure the lifters to each side do not hit the wrong lobe
With this much lift and this large of a bearing size you can see how close we are lift wise of not going much larger unless a larger core is used.
Rather than try and use a chain, we are going with a Jesel Belt drive to operate the cam. This gives us a bit more adjustment on the fly, and ease of cam change if we want to swap cams without pulling the front of the engine apart. Belt drives also help dampen the noise between the crank and cam so in some ways it can help calm down your valvetrain operation....especially on stiff springs as we are going to use to control higher lift cams. The block does have to be machined for the cover to fit and it will replace the OE cover as well. These are dry sump only applications, no room for a OE style oil pump on the front of the crank with these.
Front cover, lower drive and cam plate installed
Cam gear and belt installed as Erik begins to degree the cam.
Jesel offers a number of adjustments as well as +/- 10 degree's at the cam gear by loosening the 4 nuts and sliding the cam.
While the 527 street is going to use your standard link bar style lifters, the race version runs a Jesel keyway lifter and bushing. Again larger than the OE 0.842 diameter, these increase the lifter body size to 0.937 and give us the ability to use a 0.850 wheel (0.700 stock) to further reduce stress on the cam lobe face.
Bushings installed. Make note since the key is only on one side these must be installed correctly or the lifters will not install properly.
0.937 x 0.850 lifter. On the left you can see the small key that guides the lifter and keeps it from turning in the bore. These are also offset to correct pushrod angles.
both lifters installed with offsets to straighten pushrods to the rocker arms.
Next up we will be looking at the cylinder heads, valves, and springs!