Corvette: Should I Buy New Run Flat Tires?
Although run flats protect you against nails, they will eventually wear out. You have three common options once they do.
This article applies to the Corvette C5 (1997-2004), C6 (2005-2013), and C7 (2014-2015).
You may already know this, but you may not. Your Corvette comes with run flat tires, which are designed to withstand a puncture and keep you moving at reduced speeds of 55 mph or less for limited miles. Some run flat tires will carry you up to 200 miles after a puncture. Some Corvette owners think their run flat tires are great, while others don't like them. They offer peace of mind for some owners, but for others they are annoying. That's usually how a lot of car mods are. When your run flat tires finally wear out and need replacing, what can you do? Do you have to replace them with a new set of run flats? The answer is no, there are two additional options. This article discusses the three choices you have when it comes time to replace your run flat tires.
Option 1 – Buy a New Set of Run Flat Tires
This is the most common option for many Corvette owners as it's the easiest choice. If GM thought these were optimal for the Corvette, then they must be a good choice. Knowing that your tire(s) will be fine if you ever run over a nail is a good form of insurance. This option would make more sense for the owner who drives a lot. If you use your Corvette almost everyday, for long distance traveling, then this option is probably the best fit for you. Run flats are pricey to replace, so prepare for that expense. They can run around $400 per tire, depending on brand and performance specs.
Pro Tip
There are many run flat tire options from different brands. Some offer quieter rides and longer tread life. This should be kept in mind when shopping around.
Option 2 – Buy Non Run Flat Tires Plus AAA
The non run flat tire option is the favorite among the performance-minded Corvette enthusiast. There are a number of great performance tires, many of them being non run flat tires. Some popular options include the Bridgestone Potenza RE-11 and Kumho Ecsta XS. Your Corvette's handling can be greatly improved with a good set of sticky tires. This is a good choice for the owner who drives their car sparingly during the week or solely during the weekend. For added protection, a lot of owners choose to sign up with a good insurance company that offers quality towing, such as AAA. In the event that you run over a nail, you have a solid "plan B." It is also important to note that these tires are considerably cheaper than the run flats.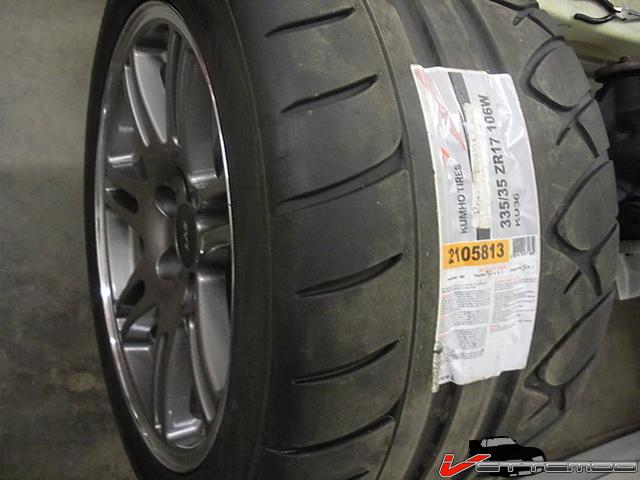 Pro Tip
Non run flats, in general, offer a quieter ride and higher levels of grip.
Option 3 – Buy Non Run Flat Tires Plus Tire Inflation Kit
The tires for Option 3 are the same as for Option 2; the difference is that you opt to buy a tire inflation kit in case of a flat. A lot of people also like to pair this kit with a small, 12-volt outlet air compressor for added peace of mind. The OEM kit from the dealer runs around $600, whereas an aftermarket kit runs around $150. If you piece your kit together, you can find the air compressor for as little as $50. A basic inflation kit can be found at your local auto parts store for as little as $5. Of course, you can also get AAA insurance, but in that case you wouldn't need to worry about fixing a flat or needing an inflation kit. This reasoning is what differentiates Option 2 from Option 3. Chevrolet went with this option for the C5 Corvette Z06.
Related Discussions