Rear coil overs
11-13-2010, 08:52 AM
CF Senior Member
Rear coil overs
---
Been contemplating switching to coil overs on my '80.

Is there enough room to fit a 2 1/2" or 3" spring in there where the shock is now?

Also was wondering if it would work by coming off the rear of the trailing arm.
Weld a mount on the frame, Fab up some brackets to surround and box in the arm where the original bolt goes thru and come down from there. Seems to be a lot more room.
I don't think there would be any binding issues using coilovers with heim joints.

Anyone done this?

Thoughts?

Issues?

Reason I would like to do this is, I put in a replacement 9 leaf 2 yrs. ago and it still sits to high. Have 8" bolts in there now. 10" is too long, end of the spring rubs the sidewall. Plus, it would be something different. Hate following the crowd.

Almost forgot. Would the rates on both springs be 1/2 of what the leaf spring is or, say, a 200 lb. spring on each side if the leaf is rated at 400lbs.?
11-13-2010, 11:20 AM
CF Senior Member
11-13-2010, 12:14 PM
11-13-2010, 12:43 PM
CF Senior Member
---
Are you running the VAn Steel system?
No I still have the original setup underneath.
Was looking at the Van Steel setup and think I can build something similar for a lot cheaper.
That Sharkbite is WAY out of my price range.
11-13-2010, 04:27 PM
CF Senior Member
Member Since: Nov 2000
Posts: 7,195
---
I've got Bilstein Coil overs in all 4 corners. They ride really nice and handle even better!
11-13-2010, 10:20 PM
CF Senior Member
Member Since: Apr 2006
Location: Marietta Georgia
Posts: 429
Thanks: 0
Thanked 0 Times in 0 Posts
---
I have QA1s on all four (4) corners. This is a picture of the rear set-up before I completed and painted. Just a QA1 mounting kit bolted to steel plate welded to the trailing arm. No interference with the storage/battery compartments.
[IMG]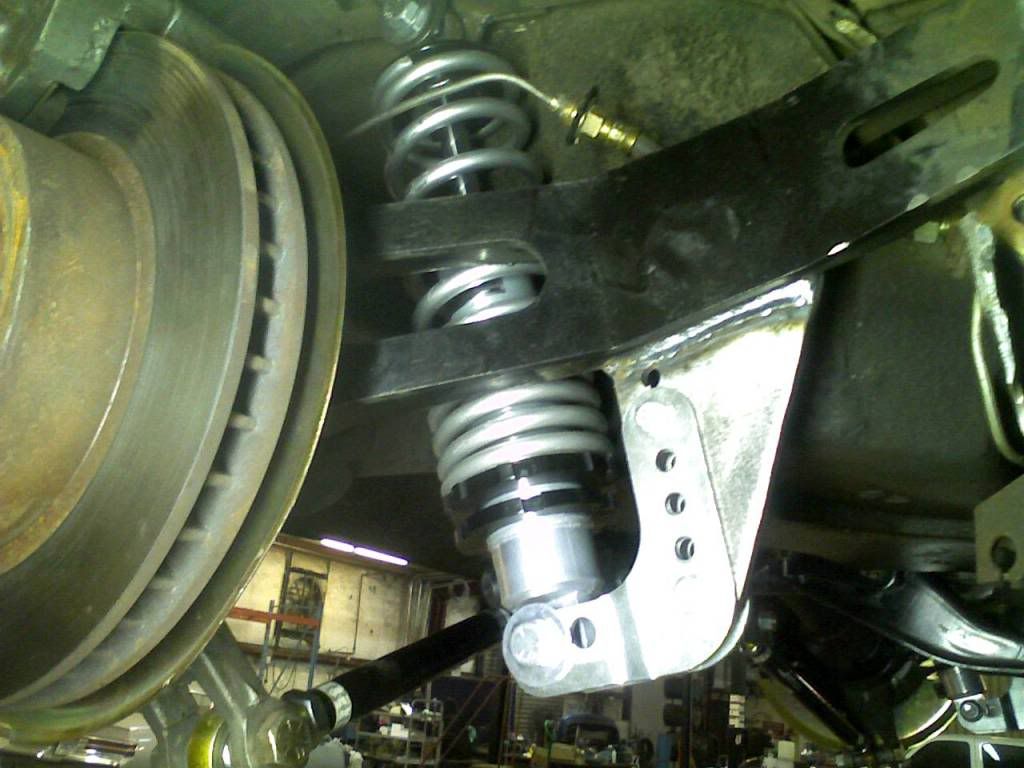 [/IMG]
11-13-2010, 11:17 PM
CF Senior Member
---
Dam, 3 different ideas to choose from. Those are the ideas I was looking for.
Now, to get busy and put something together.
Still wondering what spring rates to use?
Thanks guys.