QA1 coilover SU-1478 vs Sharkbite coilover SU-1302
03-14-2019, 09:32 AM
CF Member
Member Since: May 2012
Location: OKC OK
Posts: 74
Thanks: 0
QA1 coilover SU-1478 vs Sharkbite coilover SU-1302
---
I'm on the fence about which one would be better for my application. Originally I was looking at Sharkbite (love the name) but then saw the QA1 stuff. The $ difference is 100$ between the two kits. I have researched forums but I'm a suspension novice. Yes I know they aren't true coilovers..

Basically I have a mostly stock C3 '76 with sagging stock front suspension. I would like max adjust-ability for ride quality, height, and looking at a medium spring. She is basically a daily driver but
occasionally I like some spirited driving (not a track day car). I would like at some point to upgrade the back suspension which was previously done with a fiberglass spring and was looking at Sharkbite
for the rear at some point in far off future. I would like a more modern flexible ride without major $$$ (ridetech, chassis mods, etc). I sent an email to a tech at Zip Corvette suggested to me during a support chat but have yet to receive a response.

Thank you
03-14-2019, 10:01 AM
CF Senior Member
Member Since: Apr 1999
Location: Reno Nevada
Posts: 19,172
---
I went for adjustability with QA1s dual adjustment front semi and rear dual adjustment and mono spring. My long term goal is a rear coil over
03-14-2019, 10:10 AM
CF Senior Member
---
Have you looked at the Vansteel stuff?
Same price range- they are a suspension company- not a reseller. Plus they are great to deal with and offer a Corvette Forum discount-
https://www.vansteel.com/index.cfm?f...&subgroup=3029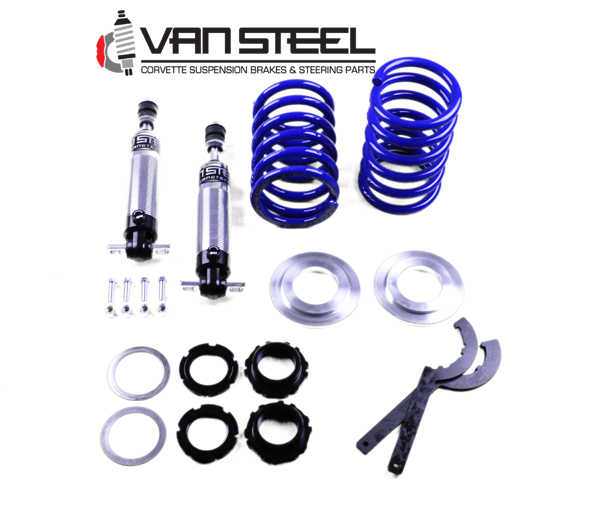 ---
Last edited by Richard454; 03-14-2019 at

10:11 AM

.
03-14-2019, 10:24 AM
CF Member
Member Since: May 2012
Location: OKC OK
Posts: 74
Thanks: 0
---
I simply included zip item numbers for ease. Both of these are dual adjustable. $1k is too much too spend and makes me cringe since I'm on a budget. I've also read the vansteel requires some chassis modifications which is beyond my skills.
03-14-2019, 10:41 AM
CF Senior Member
Member Since: Dec 2006
Location: Anaheim Ca.
Posts: 7,018
---
Sharkbite is more bling than function, IMHO.
03-14-2019, 01:12 PM
CF Senior Member
---
No mods needed at all- except when doing the rear coilovers- which just requires an upper bracket to reinforce the OEM mount.
I'd certainty give them a call -it's free even have 800number!!! Tell them your type of driving- and maybe find the dual adjust is not really needed/suited for you and your car. Then end up with a better piece- suited for your driving and save $100.
AND nothing against the Zip tech- but I'd feel a lot more comfortable spending that kind of money with a guy who understands C3 suspensions and can explain the differences- not just not read off a spec sheet.
Richard
03-14-2019, 01:19 PM
CF Senior Member
Member Since: May 2018
Location: England AR
Posts: 757
---
Isnt vansteel C/Os rebranded viking shocks? I may be wrong but i thought i read that, nothing against either, Viking shocks are decent shocks.
---
Last edited by naramlee; 03-14-2019 at

01:19 PM

.