69 L46 spark plug
05-15-2013, 10:03 AM
CF Senior Member
---
The R45
S
has an extended tip, I believe to help prevent the plug from fowling.
The R45 will work just fine.
05-15-2013, 10:48 AM
---
Thank you once again
This makes it a lot easier for me and I dont have to order them from overseas right now - so I can wait and see what else I will need for my '53 Olds resto and order all parts together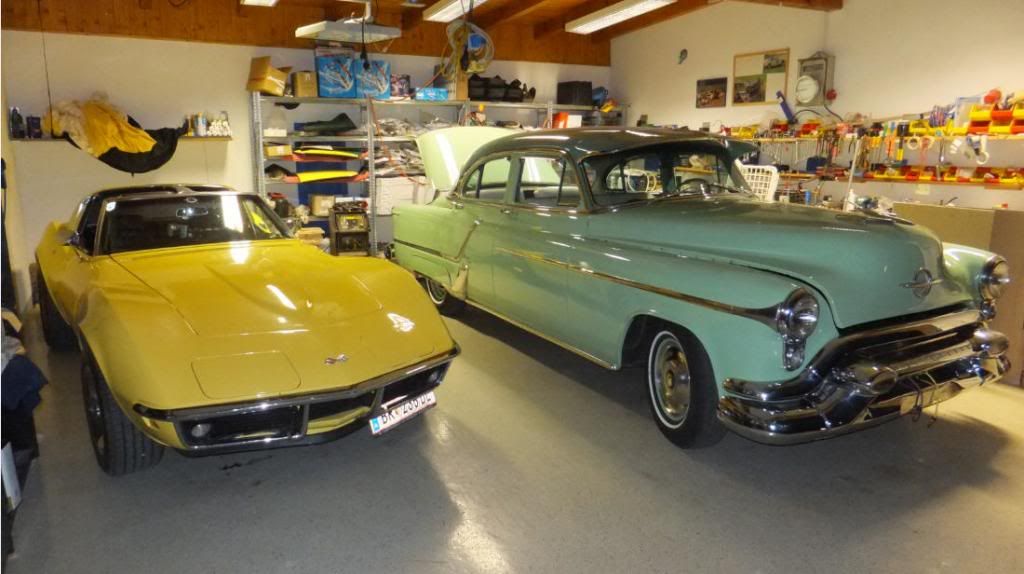 06-23-2014, 01:03 PM
CF Senior Member
06-23-2014, 01:13 PM
---
Exactly same scenario as you : Just bought a new "single" and had a fairly old set (minus 1).
Don't know the vintage of the old set - probably 25 years ?
06-24-2014, 09:59 PM
CF Senior Member
---
QIK,
My new R45S are identical in all dimensions as my old R45S. My old one is old enough to have "MADE IN U.S.A. A-22" stamped into the barrel of it.
Are you sure your old one is not an R45 (without the "S")?
06-24-2014, 11:10 PM
---
Good response - not out of line for the level of automotive knowledge commonly found on here.
My new old stock R45S' were made in Canada.
The sleeve pack has ACNITER R45S plus the GM part number 5612028.
Curiously the specified torque is
15 LBS.FT
on the package.
The insulator on both sets of plug's : the ones being replaced and the new (old stock) replacement set (minus 1) protrude about 1/32" past the shell.
I don't feel like removing the new store bought R45S but am sure the insulator and center electrode assy protruded at least an 1/8" further.
My new old stock plugs are stamped AC SPARK PLUG followed by a bunch of vertical lines.
I believe I have had these spark plugs at least 30 years, probably longer.
I have a lot of parts I bought new / acquired back in the 70's - bunch of 44 spark plugs, brown distributor caps, TI coils etc
---
Last edited by QIK59; 06-25-2014 at

08:29 PM

.
06-26-2014, 12:55 AM
CF Senior Member
Old thread, but
---
As for some of you new Vette people, the 'S' means extended tip and will not work with higher domed pistons....The example is that a 1961 FI 315 hp engine is 11.25 compression, not 11.1. ...The correct plug is a #44 as the piston will hit the 44S plugs ....But in the 62`s which are 11.1 which was accomplished for GM by using 2 head gaskets a side....That slim difference is all that was needed to successfully use the S plug in the 360`s ....Not really a well known practice as most 315 cars were taken apart years ago and put back together wit a thicker gasket...Another reason is the 'S' tip only affected the FI Vettes and not the others because of its domed 315 pistons....
but 'whatever'
07-01-2014, 11:47 PM
---
Here is what I'm calling old and new :
Not sure what your old and new look like - but these are mine.
Okay what looks like has happened is that the old plug threaded body below the gasket face was about 7/16" long.
The new plugs are only 3/8" long below the gasket face - they have shortened the body about a 1/16" which has unshrouded the insulator and center electrode - making it look like the nose and center electrode are longer.
The projection into the chamber has remained the same but the last 1/16" of the shell which was not threaded anyway is gone.
Theoretically the plug should perform better and make a bit more power.
Overall the new plugs are a touch longer external to the combustion chamber.
There you go !!