Brakes
02-25-2018, 11:43 AM
CF Senior Member
Brakes
---
So The rear brakes lasted three years three to four thousand miles maybe before one of them started leaking so I decided to go with wilwood on the front and back easy install so far only have the one left. Should I clean up this brake rotor before I install the caliber?

Jack
02-25-2018, 12:56 PM
Supporting Vendor
---
Because the rotors had another brand of pad material on them prior to the Wilwood BP10 you'd be better served having the rotors turned (minimally) prior to bedding the new pads. The off chance that the pads not being compatible with the former material is a concern. Turing them will allow the new pads to be properly bedded. Further replacement of the same compound will not require this.
__________________
TCE


Your one stop...for Wilwood Brakes!
480.967.7901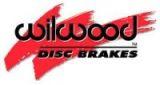 * CUSTOM * Corvette * Lightning * Impala SS * Focus ST * Marauder * 350/370Z * MINI * Challenger * Crown Vic * Super Duty * Flex/SHO * Mustang * WRX * ...and more!