FS: 1992 Quasar Blue Corvette Coupe in CA - $9,000
03-07-2019, 09:51 PM
Platinum Supporting Dealership
Member Since: Nov 2000
Location: Tampa FL
Posts: 1,267
Thanks: 0
NCM Sinkhole Donor
1992 Quasar Blue Corvette Coupe in CA - $9,000
---
The following Corvette is being offered for sale at
VetteFinders.com
Follow the links to contact the seller.
1992 Coupe Corvette for sale
1G1YY23P9N5111102
LT1 300
Automatic
65,000 Miles
Quasar Blue with White Interior
Description:
1992 Chevrolet Corvette: Rare Blue and White color combo, LT1 motor with 300hp and 330ftlbs, 65k miles with automatic transmission and new torque converter. New MSD performance distributor, water pump, thermostat, coolant, IPS switch, DOT 4 brake fluid, gaskets and fresh Amsoil Synthetic oil and filter. Work done by Guldstrand Motorsports Corvette in Burbank CA, legend Corvette driver Dick Guldstrand personally road tested car before he passed and said it was the nicest C4 he's driven in years, $3,300 in receipts! New air filter, Hella german halogen headlights with 90/100w bulbs, and upgraded halogen bulbs in fog lights. Yokohama AVS ES100 tires with KYB shocks; original Bilsteins included but need rebuilding. Upgraded Pioneer AM/FM/CD detachable face radio installed and original Bose radio included. CTek trickle battery charger hard-wired to new battery and rear hatch vent bracket included. Just smogged for the next two years!
Price: $9,000
Location: Hemet CA
Click here for photos (8) and to contact the seller.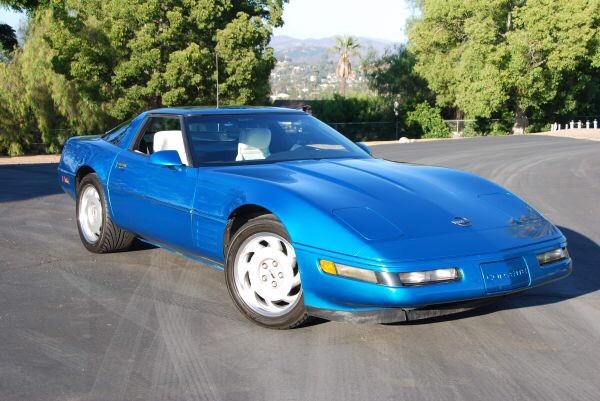 __________________
'66 Conv. 327/300 - Original 1 owner.
Help us continue to support the forum by visiting VetteFinders.com
www.VetteFinders.com
Your Internet destination for buying and selling Corvettes.
Read My Corvette Blog