Line Lock
10-17-2007, 01:13 PM
CF Senior Member
Member Since: Jan 2006
Posts: 10,422
Likes: 0
---
The product that seems to get the most positive comments is from forum supporting vendor CARTEK. From past posts, it comes complete with pre-bent lines and everything you'll need.
You can find their ad on the main menu page, in the column to the left.
Some other members have used HURST or other after market brands with success, the primary negative complaint being having to bend the lines. Do a
search
in C5 Tech using keywords "line lock" or similar and you should find some past discussions with images of installations.
10-17-2007, 01:38 PM
Former Sponsor
---
Easy to make your own and if you use the Hurst solenoid and get your own fittings/bend your own lines, you'll be in it for under half of what the Cartek kit costs.
10-17-2007, 03:16 PM
CF Senior Member
Member Since: Oct 2007
Location: San Antonio Texas
Posts: 121
Likes: 0
Liked 0 Times in 0 Posts
10-17-2007, 03:29 PM
Former Sponsor
---
I got the adapters for the solenoid (7/16x24 to 1/8 NPT) from Napa, and the M12x1.5 and 7/16x24 1/4" line fittings from a place called Fed Hill (google it). Needed two of everything, plus 1/4" brake line. Yes, these are all the adapters needed, and there's no stacking or adapters save for on the solenoid itself due to there being no 1/8 NPT adapter for a 1/4" brake line.

If you go to your local parts store and get a straight piece of 1/4" line that's about 60" long for about $8-10, you'll get two of the fittings needed (the 7/16x24 fittings) and all the line you'll need.

I'll be posting a complete write-up with pics and part numbers and pricing for what I did within the next couple of days now that I have my car buttoned back up.
10-17-2007, 03:32 PM
CF Senior Member
Member Since: Jan 2006
Posts: 10,422
Likes: 0
---
SUMMIT RACING sells the HURST line lock product, but it doesn't come with fittings/brake lines. They made it easy with offering those separately...then you'll need patience and a quality tubing bender.
Go to the SUMMIT RACING website and use keywords "HURST line lock" and you'll find the solenoid, lines, fittings/adapters.
I was thinking that use of the oem fog light switch might be used as the line lock switch...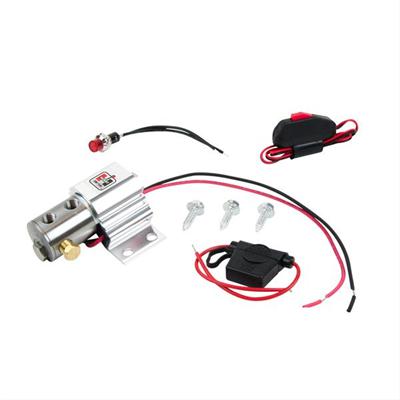 ---
Last edited by hotwheels57; 10-17-2007 at

03:41 PM

.
10-17-2007, 03:54 PM
Premium Supporting Vendor
Member Since: Feb 2007
Location: Cranford NJ
Posts: 609
Likes: 0